How Much Does It Cost to Hire a LESS Developer in Ukraine?
Doing more, with LESS. LESS, also known as Leaner Style Sheet, is a JavaScript-based CSS pre-processor that runs on the server-side, and is used to add programming concepts in dynamically styling webpages. With this CSS pre-processor, LESS developers are able to add variable definition, functions, and mixins, which can be utilized to recycle and combine styles, in creating a more scalable and manageable CSS styles for webpages. The usage of CSS preprocessors provides LESS developers with more flexibility in designing and manipulating the style of webpages, as well as adding more features and functionalities to current CSS styles being used. LESS is one of the most popular CSS preprocessors and has influenced other web technologies such as Bootstrap and the Less Framework. You may read about CSS developers and their salaries from our blog.
Why LESS?
Despite the increasing number of CSS preprocessors available for use, LESS has become one of the most common and has influenced the development of other preprocessors as well as integration into frontend frameworks, such as Bootstrap. According to the 2016 Front-End Tooling Survey results, LESS is one of the top CSS preprocessing tool of choice among developers. LESS The graph below shows the interest in LESS in the last 12 months.
Google Trends data on Worldwide Google Search Trends for LESS
According to Google Trends, China has the most interest in LESS developers.
Google Trends data on Worldwide Google Search Trends for LESS

LESS Developers
LESS provides developers with the capability to infuse server-side programming practices into styling web pages. To further expound on what makes LESS popular, below are the key features of note about LESS:
LESS extends CSS; which augments the attributes and styling capabilities of CSS.
LESS makes use of Variables
LESS makes use of Functions; which provides the opportunity for reusable and modular coding.
LESS uses Mixins; which allows the developer to embed properties of a class to another class, acting similarly to variables.
The aforementioned features provides the LESS programmer to be dynamic in developing manipulating CSS styles of web pages, while at the same time creating modular, efficient, and clean coding. When looking to hire LESS developers and LESS coders, below are the skills and experiences that you need to look for in a LESS developer resume: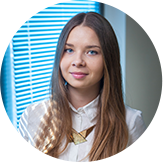 There are not so many requests for LESS developers, as the knowledge of this technology is better to have in combination with HTML and CSS experience for greater performance.
Kseniya,
Business Development Associate
Cost of LESS Developers in Different Countries
Because LESS has become one of the most popular CSS preprocessors to be used in web development, LESS coders have become highly demanded. LESS programmer salary has become highly competitive with the rise in demand. Below are the average annual LESS developer salary from various countries:
From the numbers listed above, hiring an LESS developer from a company in Ukraine would be the most cost-efficient and more practical choice. The average monthly cost of LESS developer in Ukraine varies from from city to city:
Kiev: $1,400
Poltava: $1,300
Kharkiv: $1,200
Lviv: $1,200
Odessa: $1,100
It should be noted that the cost is also highly dependent on the complexity of the project as well as the amount of experience that the programmer has. Aside from location, LESS programmer salary also vary depending on the number of years of experience that they have. Below are the salary for LESS coders according to experience.
| | | | |
| --- | --- | --- | --- |
| Number of Years of Experience | Minimum | Median | Maximum |
| 0-2 years | $1,000 | $1,400 | $2,000 |
| 2-5 years | $1,500 | $2,000 | $2,350 |
| 5+ years | $2,000 | $2,200 | $2,650 |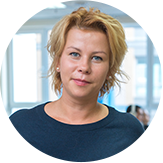 LESS is a great alternative for SASS and the demand for such developers is not very high. The knowledge of this technology is mostly required in the combination of HTML and CSS skills. Based on our recruitment team experience, no one is looking for LESS developers, however, we are ready to find a programmer skilled in this technology in almost no time.
Andriana,
Organization Development Director
How to Hire LESS Developers
There are many ways if hiring LESS developers, the tried and tested traditional route of hiring locally and in-person, and the more modern approach of remote hiring.
Traditional Hiring
With traditional hiring you can go the traditional route of hiring locally in your area. Hiring locally will give you the opportunity to be more personally involved in the frontend development of your web development project as well as have personal interaction with the LESS developers that you have hired.
Remote Outsourcing
Another way is to utilize the more recent method of hiring remotely, or offsite. With globalization and the ability to communicate with people from all over the world being the new normal, looking for and hiring LESS developers have become more convenient. Remotely hiring LESS developers provides you with the opportunity to get in touch with a diverse range of skilled and experienced developers as well as more options on the cost of hiring such programmers.
Dedicated Development Team
Remote hiring gives you the chance to outsource your projects to other LESS developers as well as hiring a dedicated LESS developers teams to work with you on the frontend of your development project. Hiring a dedicated team of LESS developers gives you the opportunity to work alongside professional developers that are focused in creating and improving your web development project with you. Our company, Mobilunity, are able to provide you with skilled and experienced LESS developers that are more than capable of addressing the tasks that you are interested in outsourcing as well as providing you with a dedicated team of highly recommended and vetted LESS developers that with collaborate with you to ensure the highest quality of results.
Why Hire LESS developers?
CSS preprocessors are one of the best ways to do more with styling your webpages. LESS provides you with the capability of tailoring the style of your web pages with modular and reusable code through the use of functions, mixins, and variables. With LESS, you can do more CSS with less coding! The use of LESS infuses server-side coding practices into manipulating frontend structure and code. With LESS developers, you can be assured that these professionals are capable of putting these concepts into action and integrating LESS into your web development projects, If you are looking to outsource or hire an offsite dedicated team to improve or integrate LESS into your web development project, Mobilunity provides the services of their pool of skilled and experienced LESS coders and LESS developers. These professional developers have been vetted and are highly recommended. To hire LESS developer from Mobilunity assures you quality output at a manageable cost!
Popularity of Mobilunity
Mobilunity has been working for over 7 years providing dedicated development teams and saving many businesses and startups. We work with such countries as USA, Canada, China, Denmark, Switzerland, Germany and much more. Located in Ukraine, the heart of Europe, we are always happy to welcome our customers, who decided to visit us and to see our workflow. Mobilunity is proud to inform, that we have have nearly 20 dedicated teams working on the various projects in different industries. Mobilunity business development team gets 10-15 requests to help different kinds of projects out. We are sure, you can be such lucky person with reliable and qualified team of professional developers. Get in touch with us and let us know your problem!
Mobilunity can provide you with the dedicated team of LESS developers who will produce quality work at a manageable cost!