Hire AngularJS Developer in Ukraine
There have been several updates to the AngularJS framework, the most notable are Angular 1 and Angular 2. Angular 1, commonly known as AngularJS, is the first version of this framework and is a JavaScript-based web application platform. While Angular 2 and all succeeding version, which will be known as Angular, however, refers to the shift from the old AngularJS framework to a new one. Angular is a break from the older version of AngularJS, with a Typescript-based frontend application platform. AngularJS developers are highly skilled and well-versed in JavaScript, while Angular 2 developers and Angular 4 developers are highly skilled and knowledgeable in TypeScript. Here we are going to delve into Angular, Angular 4, and Angular 2 developer salary. Let's also find out if it is essential to know Angular if you want to hire a JavaScript programmer.
AngularJS Developers Popularity Worldwide
Despite the move from AngularJS to Angular, updates to AngularJS are still ongoing and the framework is still being used by numerous developers in their web application development projects. Based on the Developer Survey conducted this year by StackOverflow, AngularJS belongs to the top 5 most commonly used technologies in the world and is among the top most popular programming language in 2016. It is also among the top programming languages that most developers want to use in developing their projects.
According to Google Trends, in the past 12 months; there has been a notable interest in Angular JS developers.
Google Trends data on Worldwide Google Search Trends for AngularJS
Also, India has the highest ranks in terms of interest in AngularJS developers worldwide.
Google Trends data on Worldwide Google Search Trends for AngularJS
AngularJS has been used in the development and improvement of numerous websites. Because of how easy it is to work with and with high-quality web and mobile applications being produced with it, it has become one of the most popular and most used frontend frameworks! To have a better grasp of what frontend development with AngularJS looks like, below are just some of the websites developed using AngularJS.
The Cube
The Daily Project
Botmetric
Aside from those listed above, Youtube has also used AngularJS for their PS3, Netflix is also incorporated AngularJS. Below are some of the mobile applications that have been developed using AngularJS:
Find your perfect developer
Angular

Android

AR/VR

CTO

IOT

Java

JavaScript

Laravel

Magento

Net

NodeJS

Odoo

PHP

Python

React Native

ReactJS

SAP

UX/UI

VueJS

WordPress

Xamarin
Why AngularJS Programming and AngularJS Developers for Hire Are in Demand
A good tool can be great in the hands of masterful users. In this case, skilled AngularJS programmers are more than capable of integrating AngularJS with other frameworks and libraries to better address the needs of their clients. And because AngularJS is purely JavaScript, AngularJS developers are more than capable of reusing, testing, and maintaining their code, making them efficient coders.  Who is AngularJs developer and what is the way of becoming one? Everyone can become AngularJs developer, all you need is a basic knowledge of HTML and CSS, and of course, TypeScript with JavaScript, usually JavaScript 5.x, as TypeScript is compiled to older versions of JavaScript. Then using the official tutorial a developer should start developing its own application which is pretty easy. After a few months of practice, you get a junior Angular developer. The only thing is needed to be a good AngularJS developer and write stable and well-composed application is following the Angular architecture. The root cause of many problems in applications is breaking the Angular architecture and not following AngularJs cookbooks (however, a skilled AngularJS front-end developer would not do that).
Want to hire AngularJS developers? Create a high-quality Ukrainian development team with Mobilunity!
Benefits of AngularJS Web Application Development
This technology has gained its fair share of love and trust and is being embraced by various types of business entities, starting from start-ups to enterprise solutions.  Let us list several reasons for that.
Better security of responsive web apps.

Any organization, regardless of the industry or business domain, has their concern about security. The angular environment focuses more on presenting the data, rather than storing it, and uses secure HTTPS protocols to communicate with servers (via any form, from simple web service up to the complex APIs). Angular itself offers solutions for more secure data management, e.g. Angular $http module provides CSRF protection.

Improved data management.

Angular has barely any restrictions for the underlying database. Whether a RESTful API is developed, or an Angular app is developed for an existing internal API, you can experience easier and wider access to data management systems. Another benefit presents itself when migration from web app frameworks shall be made. The front-end swap will be easy and virtually painless.

Access management.

Many companies have issues setting various levels of access and restrictions for personnel who work with the application itself or its parts. Angular is flexible enough to adapt the security flow for one's needs using supplemental libraries (keep in mind that AngularJS itself is a client-side solution, so its integration with backend security systems will take some time)

Easier and faster development.

Many big companies turned to Angular due to its ability to ease and fasten the development process. Instead of watching events and elements, you can watch a model which is a huge step in development evolution.

Better maintenance.

OOP and the 'model-as-a-source' approach make it much easier to maintain and update application, saving both time and effort.

Great documentation and ready-to-use solutions.

One of the benefits, that make this solution so appealing is the fact that it is well-documented, as well as offers numerous solutions both out-of0the-box and developed by third-parties.

Great results within a reasonable amount of time.
Not only is the  AngularJS application development faster (comparing to traditional from-scratch approach), but the AngularJS cost of development is lower as well. From the list of reasons above, one can easily guess why is the demand for AngularJS developers only growing and a good Angular.JS programmer will be a great addition to any web development team. In the process of hiring an AngularJS Developer in Ukraine, it's worth considering the addition of a Ruby on Rails programmer and a freelance Bootstrap developer to your team, ensuring a diverse set of skills for robust and responsive web development.
Request CVs of talented Angular JS developers and look at how easy it is to find ideal programmers with Mobilunity!
Costs to Hire Remote Dedicated Angular Developer
Because AngularJS has become one of the most popular front-end frameworks for web development, AngularJS coders have become highly demanded. AngularJS engineer salary has become highly competitive with the rise in demand. Below are the average annual Angular JS developer salary from various countries:
United States: $81,221
United Kingdom: £34,329 ($45,479)
Ukraine: $23,802
Canada: C$69,272 ($53,755)
Australia: AU$61,445 ($47,048)
From the numbers listed above, hiring an AngularJS developer from a company in Ukraine would be the most cost-efficient and more practical choice. Aside from location, AngularJS programmer rates also vary depending on the number of years of experience that they have and what reputation do they have. For example, you can check AngularJS developer hourly rate for a freelance contractor. While a junior specialist with little to no experience will charge $10 to $30, some of the top AngularJS developers (those who have both experience and excellent success rates) will expect more than $60 per hour.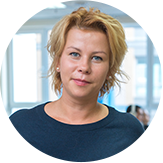 Angular is a pretty popular framework and such developers are very demanded in Ukraine. Our recruitment team is asked to find Angular.js developer quite often (just recently we had to build a team of 4 Angular.js engineers with a senior Team Lead on them). The expertise of our recruiting team allows finding the best programmers for our clients.
Andriana
Organization Development Director
How to Find AngularJS Developer Remote
There are several ways to a hire AngularJS developer, you could go the traditional route of hiring a professional AngularJS developer locally near you or try to find Angular developers for hire via traditional sources, like trusting an Angular company. However with globalization, access to the workforce is no longer limited to geography, you can now hire AngularJS developers from the other side of the world. Here at Mobilunity, we provide remote services, both outstaffing and outsourcing, of our pool of highly skilled and experienced professional developers, of which AngularJS belongs. Outsourcing services provide you with the opportunity to find AngularJS developer to work on your development projects, outstaffing is hiring a dedicated Angular team of professional developers to collaborate with you on developing projects.
The most common cause behind the 'Angular developer wanted' notice are companies that have legacy working projects and require new client applications to be written. Usually, there is an existing backend with lots of historical data, while an above-mentioned company would be looking to hire AngularJS expert to create the new client application. Such services are most commonly needed in the development of mobile or web applications. And after hybrid platforms such as Ionic became popular and stable, mobile distribution is often a requirement or the next phase of development. One more profit from hiring an Angular programmer that simple backend can be built too, using NodeJs.
Extend or build a successful Angular JS development team dedicated to your goals with Mobilunity!
When an Angular Development Team Should Be Hired
Angular has a lot of areas where it is used. First, it is useful in web development. A lot of POSs were and are created using angular. Lots of prototypes were developed using Angular, and Angular started the trend for no back-end websites since all the data can be processed on the client's side (even business logic can be a part of the client application). Another area of use is mobile development. Ionic which is based on Angular is currently widely, cause mobile development costs a lot more. Ionic uses all  Angular core, the only thing is not is the grid layout specific for mobile and tablet devices. One of the profits for mobile development with Angular core application is that Ionic has a build system that is used to build and deploy mobile distributions to App Store or Google Play market.
However, most of such tasks are too complex and time-consuming for one AngularJS developer to handle. In such a case, it might be a better idea to hire an Angularjs development team, rather than a small team of mobile developers. Nowadays,  most startups require multiple distributions for applications and a usually tight budget does not give a chance to hire a lot of specialists to develop the distributions using native technologies.
And the answer to that problem is an  AngularJS application development with the AngularJS core team on board. The first step is to develop the prototype, which can even go to production and bring the first return of investment. Then according to requirements, multiple distributions can be made by porting the application. Like wrapping it into Electron for the desktop package, building mobile versions by porting to Ionic can be made by a single Angular core team. And the most beautiful is that support of the developed application can be done by a single AngularJS developer.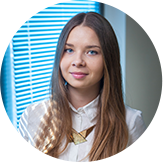 Angular is one of the most demanded technology for sure. I can assure that most requests come from clients, who are looking for talented experienced Angular developers for working on various types of projects.
Kseniya
Business Development Associate
Why Hire AngularJS Programmer
While debating the technologies to be used, many companies think of AngularJS company or a dedicated team. Here is why they usually say yes to this idea:
Simple, yet friendly user interface.

If to compare HTML and JS, the first one is clearer and allows to build both interactive and user-friendly apps/website interfaces.

Less development and actual coding.

Combining MVC architecture and numerous solutions offered by the framework itself, AngularJS seems like a perfect idea for fast development.

Ready-to-use unit tests.

We just had to cover this item, as Angular was designed with the need and importance of the testing phase in mind. Angular itself allows the dev team to ensure the full functionality of every component.

The better overall use of features.

Having modularity, two-way data binding, explicit use of custom directives and SPA-oriented features make AngularJS virtually the best framework and solution for both web- and mobile development.
With the technology that we can use today, hiring developers have become convenient, although still challenging. Hire Ionic programmers or Angular developer locally may be tedious for you, and searching for a freelance developer on your own can be time-consuming. A better alternative is to outsource, your development projects. Outsourcing development projects provide you with the opportunity to access a more diverse pool of highly skilled and experienced developers to work on your project, even going as far as hiring dedicated remote teams, worldwide. The latter option is one of the best ones especially if a company has an in-house Angular team of programmers and looks for devs skilled in certain technologies for a short-term period or project. Below are just some of the companies that have employed the skills of remote teams of developers in their development projects:
With Mobilunity, you can be assured that all our AngularJS developers come highly recommended. Our company offers quality and dedicated work at an affordable price; we will provide you with the AngularJS developer that will best fit to collaborate with you in improving and optimizing your web and mobile applications at a manageable cost.
Interview with a Dedicated Angular Developer
Due to the high popularity of AngularJS, we have decided to talk about AngularJS with our experienced in-house frontend developer, Anton. In this interview, we will try to understand more about AngularJS development services and AngularJS developer roles and responsibilities.
What do you think about AngularJS popularity?
AngularJS is now adopting a 3-year LTS (Long Term Support), a good indication that the technology is mature and has a friendly developer community which supports the framework ecosystem. On Github, AngularJS has 58k stars and 28k forks, a respectable amount considering that React.js, the JavaScript framework with the most stars, has 96k stars and only 18k forks. The framework's popularity is mainly since AngularJS was one of the first modern tools for building single-page applications, which has gained popularity among developers. In my opinion, AngularJS will stay maintainable and remain as one of the most popular JavaScript frameworks for web applications.
Why did you choose AngularJS? How much experience do you have with this framework?
I have less than two years of experience with AngularJS, during which time I have developed several projects from small to large-scale applications with varying levels of difficulty. I chose AngularJS because I like its architecture and its development principles, and the fact that AngularJS became part of most modern technology stacks since its inception. Thanks to the separation of logic from the client-side, we can carry out frontend and backend development processes in parallel, independent of each other.
Which pros and cons in AngularJS can you pick out based on your experience
Based on my experience, I found out the following advantages and disadvantages.
Pros:
Fast application prototyping, which increases the speed of development
Easy templating and data binding with templates
 A lot of tools out of  the box
Modular system
Cons:
Scopes are easy to use, but hard to debug.
Directives are very powerful but difficult to use.
Steep learning curve if you don't have any experience with MVC frameworks yet
Can you tell us more about projects where AngularJS was the best choice for development?
First of all, if you have some product in production which was written in AngularJS and you don't want to rewrite your application or website, you should keep using AngularJS and there isn't any pressing need to migrate to another framework. If, however, you want to start developing a new project, in my opinion, the best choice is not AngularJS, but the next generation of Angular frameworks. So if you ask me what is AngularJS used for, I can tell you that it's the best way to support already existing projects.
How do you see the evolution of AngularJS? Which frameworks can you call as AngularJS "competitors"?
I think the evolution of AngularJS has already passed. AngularJS has transformed into Angular, AngularJS that uses TypeScript instead of simple JavaScript and provides a new concept of web development. At this time, we have Angular 6 as the latest stable version and the Angular team continues its development. I guess we can talk only about maintaining apps written in the framework, and AngularJS developer future will be focused on improving already existing skills and explore the features of newer technologies. Although there are a lot of new frameworks, AngularJS remains a sought-after technology in which a lot of existing projects are written. This explains the high AngularJS developer demand.
Why Choose Mobilunity as Your AngularJS Development Company
Mobilunity has been providing dedicated development teams to different countries for 7 years. Located in the middle of Europe, it takes approximately 2 hours for our clients to reach us and visit our office. Besides, there is almost no time-zone difference for our customers making the work convenient and faster for everyone. Our whole team will be glad to help you out with your technical issues and give a piece of nice advice if you are in trouble. With the huge pool of talented and well-educated developers, it is not a problem to find an appropriate expert for you, especially with our recruitment team of professionals. No matter how hard and complicated your project is and how skilled a programmer should be, we guarantee you to provide a perfect developer within 2-4 weeks.
If you are looking to hire AngularJS developer for your development projects, Mobilunity can help you find the best Angular developers to cover all your development needs!