3 Best Practices to Hire Meteor Developers and Avoid Staff Expenses
The JavaScript language penetrates the entire world wide web as every web browser running on all devices and operating systems uses it as its client-side scripting language. Note, however, that for a long time since its release in 1995, JavaScript mostly remained on the client side, as there was no sufficiently robust technology that enabled JavaScript to be easily executed on the server side. This, however, changed with the release of Node.js, a JavaScript run-time environment that allowed JavaScript to run on the server.
Node.js was widely lauded and embraced by developers, resulting in a solid community of Node.js developers. As a result, a lot of Node.js frameworks were created to help make Node.js development quicker and more convenient. One such framework is Meteor. In this article, we take a look at this framework in detail and will get to know if it is essential to know Meteor for JavaScript programmers for hire.
Meteor.js Development: A Closer Look
Meteor.js is a relatively new JavaScript framework, having only been released in 2012. As a Node.js framework, it allows for much quicker Node development, packaging tasks that would otherwise take over 1,000 lines of code with pure Node.js into functions that take only around 10 lines to call. Meteor is also open-source, so its code base is available to the public, and as a result, Meteor developers can rely on strong support from the online Meteor developer community. What's more, it's a full stack framework that supports the development of native mobile and desktop applications in addition to web apps, making it a cross-platform framework.
Meteor currently holds the highest number of Github stars among all server-side web frameworks, with 37,937 stars as of writing. According to traffic analyzer Alexa, the country that visits the Meteor website the most is the United States, with 20% of all traffic coming from the USA, followed by China (10.3%), India (6.7%), Japan (5.2%), and Brazil (3.7%). From this data, we can deduce that Meteor is most widely used in these countries.
Countries that visit the Meteor website the most (data from Alexa).
Meteor Development
Meteor development is pretty simple, as in all modern major frameworks. The basic idea behind such Meteor.JS development is to write less code especially the backend part.
Installation
Typically, most modern frameworks offer simple, out-of-the-box installation. The web developer has to set up required NodeJs and NPM and run the command meteor create that will create an application. The tool will provide the backbone of the project (entry point, package.json, folder structure) that should be followed. Meteor has great integration with modern client UI frameworks, such as Angular and React. Declaring the client layer by Meteor.JS programmer is pretty easy, it's called defining views, and this is also done by single command.
Database Support
At the current version, Meteor officially supports only MongoDB. There are some techniques to plug other engines rather than MongoDB. Since Meteor is based on Cursor.observechanges (this is an implementation of Observable pattern), basically it supports the generation of differences between the collection inside of Mongo and it's reflection inside of the application. All the databases which support it can be used. And while Meteor has its own technology to communicate with MongoDB that is called Minimongo, plugging other DB can be done, but it is the risk of MeteorJS programmer.
Best Practices and Advantages of Meteor Programming
The main advantage of Meteor is the speed of development and integration with other frameworks. The speed is reached by isomorphic programming, which means that the same code can be used on the back end and front end without rewriting it a few times, also this makes support easier too. Another big advantage is the use of web sockets, so any kind of protocols can be used to transfer data. Push notifications can be easily implemented, meaning that even small data transfers can be transmitted based on server events.
The main best practice of Meteor.js programming is DRY(Do not Repeat Yourself), meaning that business logic should be implemented only once. Only Meteor built-in methods should be used to process sensitive data, providing security and data integrity. Another golden rule is to minimize sessions. Anyway according to REST principles it's the common rule not only for Meteor development. Recommended test framework is Mocha, but other test frameworks can be used, there is a simple and complete guideline on how to do it step by step. Also since Meteor has a big community, one of the best practices first look for support rather than write lot's of code, so any programmer or Meteor development company will find support and help.
Distributions and Production Support
Since Meteor is more a back-end part of the application, distribution depends more on client framework. There are two major frameworks that are used: Angular and React. Meteor supports both of them, but it has better support for Angular and Ionic, that makes building mobile distributions easier. As for production, a lot of platforms can be used starting from the simple ones as Heroku. If more control is needed then any cloud provider can be used like AWS or Azure. However, the choice of production platform shall be made at the beginning of Meteor mobile app development, as it might affect the overall process.
Reasons to Choose Meteor.js Programming
While the debates over the best framework might take years, the decision to choose each one should be based on benefits this particular framework can offer, as well as its ability to fulfill the needs of a particular project.
Fast and relatively easy development process. The overall development cycle is easier, as Meteor offers solutions for both front and back-end, as well as smart packages along with great integration with other services.
Single language, full-stack solution. Being one of the very few solutions to cover both front and back-end, Meteor endorses rapid development by offering benefits like context switching.
Frond-end reactivity. Offering the isomorphic APIs for communication between front and back end, it allows to speed up both server-session management and client-server management.
Live reload and real-time app. Amongst numerous benefits, Meteor offers an automatic update of all layers from DB to templates, as well as live reload of web page whenever any changes are made on front-end.
Easy transformation to IOS/Android app. Due to the out of the box integration with Cordova, programming with Meteor makes it easy to convert Meteor App to a native app with access to native device functions.
Whether there is a single developer or a whole Meteor company working on the project, the overall results promise to be great.
Meteor Projects and Practical Application
Among other companies and business domains that have utilized MeteorJS, there is plenty of entities that represent Business and Industry, Travel, Education from a number of countries including the USA, Germany, Brasil, and Australia. Holding top position in various rankings (e.g. 3rd most popular on the Entire Internet in Node.js category), this framework is known and loved by both clients and developers.
Meteor showcase section on their website presents only the small portion of projects built with this framework. However, there are over 16 thousand websites running on Meteor.
As for application, there is a separate website that presents some of the greatest samples of Meteor development, presenting a variety of apps in a great number of domains like Games, Sports, Messaging and Video-chatting.
Apart from that, the Meteor community has several internal projects they are working on. Here are some interesting open-source projects built with Meteor that any Meteor JS developer can contribute to.
Rocket.chat – a cross-platform chat application with features such as video conferencing, group messaging and helpdesk chat support
Wekan – a project management web application that uses the Kanban system and card-based design
Telescope – a web application that enables the easy creation of social community sites with post and comment functionalities
Angular-Meteor – a tool that combines Angular and Meteor for full stack development of web and mobile applications
Dr. Mongo – a convenient administrative application for MongoDB management that allows users to connect multiple databases
A MeteorJS developer should be aware of the Meteor Directory Structure. Meteor loads such project files as a model.js file in the project root, and server/server.js file afterward all the .css and .js files are loaded from the client/lib folder. Followed by loading of all other files from client/folder. Meanwhile, the public/ folder has such files as pictures etc. A programmer who works with Meteor should know the sequence of the loaded files and be aware of the peculiarities of meteor routing and usage of Iron Router.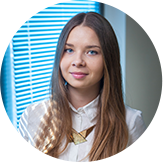 I can assure you that all JavaScript frameworks including Meteor.js are in a high demand. We receive the various requests with such a requirement for our customers to develop different types of projects using Meteor.js.
Kseniya,
Business Development Associate
What Developers Should Know to Be Good Meteor.js Coders
When you hire Meteor developer, you should be aware of the knowledge and skills you candidate should have:
A skilled front-end developer with over 2 years of experience.
Experienced with Meteor.js and its framework for at least seven months.
Good at HTML, HTML5, XHTML.
Excellent knowledge of JavaScript, its object model, and JS module system.
Five last projects on Meteor.js in candidates' portfolio.
Good verbal and written communication skills.
Meteor has a built-in packaging system to Meteor, so you don't have to install any third-party package managers. However, Meteor developers should remember to check how up-to-date the packages are. Most of the packages are not really needed, like Bootstrap support, because in fact there are many such packages that wrap the latest version of this framework, and nothing more.
A MeteorJS developer should be aware of the Meteor Directory Structure. Meteor loads such project files as a model.js file in the project root, and server/server.js file afterward all the .css and .js files are loaded from the client/lib folder. Followed by loading of all other files from client/folder. Meanwhile, the public/ folder has such files as pictures etc. A programmer who works with Meteor should know the sequence of the loaded files and be aware of the peculiarities of Meteor routing and usage of Iron Router.
Meteor Developer Wanted, or What You Should Do to Hire a Skilled Meteor.js Programmer
There are a few ways you can find a dedicated team for your projects, such as freelance, local hire or outstaffing. If you have only one small project and one developer, you can choose freelance. It is also a good option when you have time. If you are interested in long-term cooperation with your devs, hire them locally to work in your office. You'll have to spend quite a fortune for this option because in-office work requires additional spendings, plus you may simply not be able to find a relevant expert in your location. The third option for you is to use the outstaffing services of a reliable company that would choose a dedicated team of Meteor developers in the shortest terms. It will not be as cheap as a freelance, but will definitely save you money, nerves and time. In the result, you will receive a team of skilled devs, spend minimum time for the onboarding and testing, and will be able to start working on your project within a short period of time.
Team composition
In many cases, both Meteor web development and Meteor app development require not a single developer, but a whole Meteor.js team. Since the main idea is isomorphic programming and web developer can become Meteor app developer, the profit is that web UI developer can implement back-end or just port client business logic part to back-end pretty easily. And it takes about a week to dive into Meteor, the only problem there can be with WebSocket data transferring, but simple API makes it not so hard. However, Meteor is not the most common technology, so finding Meteor developers for hire might be an issue for some companies. Let us help you out and walk you through the process.
Ways to Hire Meteor Developers
If you're in the market to hire Meteor developer, here are some of the methods you can consider.
Direct Hiring
You can hire MeteoJS developers directly from your local market, and one way to do so is by using one of the many job posting websites like Indeed, Glassdoor, or LinkedIn. This is the most traditional method, but note that it can also be very costly, especially in some countries where the rate of developers is high. Moreover, this often involves long-term contracts, so you have to keep your employees even after your project is completed. Moreover, it often requires you to allocate additional physical resources like computers and office workstations for your employees, which can increase the costs further.
Outsourcing (Project-Based Model)
You can also hire an outsourcing company to develop your entire project from start to finish. This involves laying down the entire details of your project to a team of project managers or business analysts at the beginning of the project, and they will be the one to form the development team and carry out project management. This method is convenient because it takes a big load off your hands, but it can also be quite costly due to the added services of project management and business analysis. Moreover, it leaves you with limited control over your project, and small misunderstandings at the beginning of the project can cause significant delays and further increase the cost.
Dedicated Developers
One other option would be to hire a dedicated team of Meteor developers from an offshoring company according to the dedicated team model. In this way, your developers will remain in the offshoring company's office, but will otherwise work for you full-time and report directly to you. This gives you full control over your project and gets you involved in developer selection while saving you the need to allocate physical resources to your developers. Moreover, it can cost a lot less than a project-based model because project management and business analysis are not needed. Additionally, dedicated development team model gives you the flexibility to resize your team as your project requirements change, and payments with this method are often all-inclusive, meaning it includes everything from rates, taxes, and insurance to software licenses and office resource costs.
Hiring dedicated developers from an offshoring company is the clear winner in terms of giving you the best value for your money. One caveat of this method would be the possible difficulties with time zone differences and language barriers, so it is essential that you choose the country you will hire from with prudence.
Meteor Developer Compensations
To help you decide which country to hire Meteor developers from, let's compare the average annual income of a Meteor developer in various countries using data from PayScale. Note that PayScale uses user-reported compensations, so they may prove to be inaccurate, but this comparison will nonetheless provide us with a general idea of the relative rates among these countries. According to PayScale, the average cost of annual Meteor developer (which falls under Node.js developers) with 1-4 years of experience is as follows:
It is clear that two countries, India and the Philippines, offer the lowest rates for developers among all the countries we compared, and these countries would be great choices for those looking to hire a Meteor expert from South Asia and Southeast Asia. However, for those within Europe or other neighboring countries like the USA, India and the Philippines are geographically on the opposite side of the globe, so time zone differences would be very problematic. In these regions, Ukraine would be the best choice, as it offers the lowest rates across all of Europe and is only an hour or two away from most European countries.
Mobilunity as Your Perfect Meteor Development Company
Meteor development is in the rising demand, however, you are hardly going to find any meteor software company on the market, targeting only this framework.
If you are in search of a dedicated team of experienced developers for your future projects, the solution is to gather information about their pay and professional requirements and call Mobilunity, an outstaffing company from Ukraine with more than 7 years of international experience. Our experts will receive your request, ask you additional questions regarding your future dedicated team or developer. Within the shortest period of time, Mobilunity managers will make an offer with a few versions of the suggestion. While we are not only Meteor development company, we offer a wide variety of outsourcing and outstaffing services to our clients.
If you are having troubles with your startup, meeting some technical issues within your business or just need some advice of a real IT master, Mobilunity is a great solution to all these troubles. Was founded in 2010 and located in the middle of Europe, Mobilunity has been providing dedicated development teams to various countries worldwide. As for now, we work with such countries as Israel, Germany, Switzerland, Denmark, Canada, USA, Luxembourg and much more. Every month we receive nearly 10-15 requests from different types of business. We currently have 4 teams working on Swiss projects and 3 teams for our German clients. Let us know your problem and we will build an awesome team of dedicated experts.
You're a few clicks away from hiring Meteor developers. Contact us now!