How Much Does It Cost to Hire a Node.js Developer in Ukraine?
What exactly is Node.js and what a Node.js developer can do? What projects Node.js framework can work for? Are there any professional Node.js programmers on the market and is it hard to find a specialist within a short time? Are remote development teams more effective than in-house employees? Is the knowledge of Node.js essential for JavaScript developer for hire? Let's find out the popularity of Node.js, main projects developed with it, NodeJS developer salary rates and what skills do you need to look for if you want to hire Node.js developer.
Why to Hire Node.js Developer
Node.js is an open source, asynchronous, event-driven JavaScript framework designed for I/O intensive and scalable web applications like multimedia streaming and single page applications. Node.js is capable of dynamic creation of page content, server file manipulation, form data collection, as well as database content management.
Put simply, Node.js is a fast, light, and modern method of executing network and scalable applications, which makes it one of the most popular web development tools for developers. It is also worth noting that despite its asynchronous and event-driven state, developers can use Node.js with parallel and functional programming by adding some of the libraries built for either one. No wonder, that nowadays, NodeJS developers are in high demand on the market and this popularity is well-versed because of usefulness and multifunctionality of the Node.js framework.
Based on the developer survey conducted this year by StackOverflow, Node.js is the most commonly used technology in the world and is the most wanted language that programmers want to develop projects with. From the 2016 User Survey Report conducted by the Node.js Foundation, there are 3.5 million individuals using Node.js worldwide, and this number is growing at 100% rate, annually. Also, 62% of the developer respondents of the survey noted that use Node JS programming works for both frontend and backend project needs.
Both studies show that there has been a rapidly growing interest in the use of Node engineering. More and more businesses look for Node JS developers for hire. The graph below shows the trend in the interest on Node.js developers over the last 12 months.
According to Clutch.co list, there are 596 software development companies open to requests including Node.js development assistance. When it comes to choosing a Node JS development company to work on your project, firstly you need to figure out if the company has a portfolio, read reviews, ask about the qualification of workers and then compare the received information with what is needed for your project. With this sample and our useful recommendation, you will know what skills and experience to look for.
According to Google Trends, the United Kingdom has the highest interest in Node.js developers.
Google Trends data on Worldwide Google Search Trends for Node.js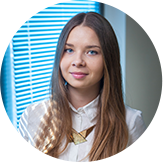 I can say with a confidence that Node.js is gaining its popularity from quarter to quarter: such requests are not rare anymore, so it's important for us to have our CVs database updated with recent suitable Node.js candidates
Kseniya,
Business Development Associate
Pros and Cons of Node JS Programming
Pros
Among the advantages of Node.js framework, it worth to pay attention to the following ones:
a high performing speed;
scalability and versatility;
can use a proxy server;
a strong connection between an app and a server;
can handle a rapidly growing number of connections;
no excess code lines;
no need in different languages;
non-blocking I/O feature;
accepts general databases;
supports JSON format;
fast implementation of any changes made;
data streaming;
both front-end and back-end useful features;
supports NPM repository (over 60.000 modules)
Cons
Of course, Node programming has cons as well. Fortunately, knowing about possible pitfalls and difficulties in Node development, you can avoid them and turn them work for your project:
Application Programming Interface (API) of Node.JS framework changes at frequent intervals and, therefore, cannot be considered stable one.
does not have a well-equipped library system;
In comparison to other frameworks, Node.js doesn't provide a wide range of libraries available. Nevertheless, all common libraries can work for it greatly.
asynchronous programming mode algorithm to keep in mind.
It is important to develop and implement solid design patterns to make the framework work for your needs according to the prescribed workflow.
Node Engineering: Choosing Node.js Framework for Your Needs
To make Node.js development even more streamlined, the framework was divided into different sub-frameworks to target different needs and requirements. Here is a short overview of the most popular Node.js frameworks such as Express.js, Sails.js, Loopback, etc. Each framework has its advantages and disadvantages as well as main characteristics that will help you to understand what it can be used for.
Express.js is the most popular Node.js. framework presented in 2010. It became a great foundation for many other Node.js frameworks developed later. Being a minimalistic, easy-to-use and simple in terms of features, Express.js doesn't offer many options for programmers but provides many modules to build applications on. This flexible framework is used for large-scale apps where a long-term support with constant extensions is needed.
Main features: quick, easy to use, flexible.
Based on Express.js, this framework was developed as a complete product that can be used for fast app development. Sails.js is especially helpful for building and supporting real-time apps that need fast responses and should work with any front end.
Main features: complete, easy to develop, usually used for real-time apps.
This full-package Node.js framework is extremely helpful in creating real-time scalable web applications for any device (iOS, Android, web). Meteor coders can complete more tasks using less code. Meteor can be used for launching small or big projects aimed to work on all general platforms.
Main features: full-stack, time-saving, for general purposes.
Loopback is well-known for being a highly extensible modular framework that can create API easily. Loopback supports running applications on-premises or in the cloud and works great when user's authentication and authorization are needed.
Main features: simple, many additional features, used for complex integrations.
Hapi appeared in 2011 bases on Express.js as many other frameworks and developed into a solution with another approach: this framework provides the most additional options for development needs. It is helpful for big projects and large development teams and probably will be too complicated for small applications.
Main features: configuration-oriented, solid, time-saving, reusable app logic, used for big projects.
This new-generation framework is a lighter and more flexible version of Express that was developed mostly for application building. It can be used both for small tasks and big projects and offers a nice bunch of customization options.
Main features: quick to develop, reliable app basis, flexible.
Node.js Development: How Companies Benefit from Node.js Usage
There are numerous ways of using Node.js. A great Node.js developer can either use it to build from the ground up or integrate it into existing code with the goal of improving it. The increased interest in Node engineering can be seen from small startups and international corporations, and a testament to its usability and efficiency proves that Node JS programming can contribute significantly to your current or future development projects. Below are some of the companies that have benefited from integrating Node.js development services into their environment.
Paypal
One of the well-known online payment platforms available with millions of users, PayPal improved its build by streamlining its code and using Node engineering to enable both browser and server-side of their application be coded in JavaScript. This improved development time and reduced the number of lines of code.
Advantages of using Node.js for PayPal:
the application was created 2 times faster than it could be developed with any other framework;
can accept doubled number of requests per second;
average response time decreased by 35%;
33% less code needed;
40% fewer additional files used.
LinkedIn
A business and career-oriented social networking website, LinkedIn uses Node.js to streamline and manage their server-side services and application. Similar to Paypal, with Node.js LinkedIn's development and the application performance increased and the resources needed were reduced.
Advantages of using Node.js for LinkedIn:
the number of machines for service hosting reduced 10 times;
the number of servers was cut in 10 times as well;
can process doubled traffic amount;
the application is faster in 20 times comparing to the previous version;
both front-end and back-end tasks are performed with the same technology and, thus, quicker;
better performance and more headroom resources.

Netflix
Being the largest online video streaming platform, Netflix has millions of users and goes through so much traffic. Netflix uses Node JS web development capabilities for the entire user interface on the website. And with this, they were able to decrease build time while at the same time increasing the customization capability of the website.
Advantages of using Node.js for Netflix:
a start time and build times of the application was reduced more than twice;
streamlined development;
more user-friendly and customized application to meet all needs.

Uber
Uber is one of the biggest American online transportation network companies that provides its services to over 60 countries worldwide. With its asynchronous event-driven processing, NodeJS programming addresses tasks of processing a big amount of information from numerous sources at different times at the quickest possible time as well as deals with errors on the fly, improving the code along the way.
Advantages of using Node.js for Uber:
fast data processing, even enormous amounts of information;
restart notification in case of errors occurred;
new code lines can be implemented immediately;
a helpful open-source community;
a lot of new features developed day by day.
How to Hire Node.js Developer? Skills and Experience Needed
With today's numerous ways to communicate, it is possible to find and hire Node.js developer quickly. But what is more important, if you want to find Node.js professional programmer, you will have to spend some time researching the market. There are Node.js development companies offering a wide range of services as well as individual Node.js coders that specialize in particular areas of using Node.js framework. Depending on your needs, the size of the project and the timeframe for its creation, you can find a good Junior Node JS developer for a small task and a team of well-qualified Node JS programmers to realize a big complex project shortly.
The most traditional way of finding Node JS developers for hire is to look for them locally, in your region or country. But with the ability to communicate worldwide, more and more companies tend to outsource development tasks, and Node.js development services can be performed remotely without problems. By considering hiring a freelance Node.js developer, you can explore a larger pool of highly qualified professional developers that can collaborate with you on your development project.
If you want to find Node.js developers with good knowledge and experience, you need to know what skills a Node.js coder should have to be called a professional. Here is a list of essential skills for Node.js programmers to take into consideration:
a general understanding of HTML5 and CSS3, other front-end technologies is a plus;
at least 1-year experience in working with Node.js frameworks (Express, Loopback, etc.)
understanding of asynchronous programming and its workflow to avoid any technical pitfalls and common mistakes;
at least basic knowledge of server-side templating languages such as Jade and CSS preprocessors such as Stylus;
a working experience in integrating different data sources and databases into one platform;
ability to perform automated and unit testings and make conclusions of results;
error handling skills and result-oriented approach;
teamwork and communication skills.
On the other hand, if you want to receive a truly outstanding result, you will need something more than just an ordinary Node.js developer for your project. You see, with hiring developers, a business owner is usually the one who makes the call about how things are going to be. But due to the lack of expertise some entrepreneurs are making the wrong call in such situations. For this occasion you might want to think about turning to Node.js consulting. This will allow you to achieve better performance and eventually will make you more competitive on the market.
How Much Would it Cost to Hire Node JS Programming Specialist?
Because Node.js has become one of the most popular JavaScript frameworks for web development, Node JS developers are in high demand nowadays. With the rise of Node.js framework popularity, the cost of hiring a Node JS expert is very competitive. The average annual rates for Node developers differ in various countries according to PayScale, for example:
Ukraine: $23,802
United Kingdom: £34,991 ($46,124)
United States: $80,163
Spain: €33,903 ($39,956)
France: €38,022 ($44,810)
It is worth mentioning that the rates differ not because of an experience and qualification of the developer Node.js. It is the difference in currencies that makes the rates so scattered; however, when it comes to outsourcing Node.js development services, programmers from countries with lower rates can build a remarkable project at affordable costs. From the numbers listed above, hiring a remote Node js developer from Ukraine would be the most cost-efficient and more practical choice.
Aside from location, the price of Node.js coders also varies depending on the number of years of experience that they have. The average NodeJS developer rate in Ukraine is $23,802, but it will be highly dependent on the complexity of the project as well as the amount of experience that the programmer has. According to DOU, the average cost of Node developer in Ukraine is $2,000 per month. In Kiev, a professional Node.js coder make $2,000 per month, in Lviv – $1,800, in Dnipro – $1,300 and in Kharkiv – $1,500. Although, the rates may vary depending on the developer's experience and years of working:
| | | | |
| --- | --- | --- | --- |
| Number of Years of Experience | Minimum | Median | Maximum |
| 0-2 years | $1,000 | $1,400 | $2,000 |
| 2-5 years | $1,500 | $2,000 | $2,350 |
| 5+ years | $2,000 | $2,200 | $2,650 |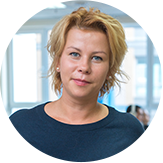 There is indeed a high demand for Node developers in Ukraine, since our team receives requests to build dev teams with Node skills as a must monthly. Thanks to our recruiting approaches developed within years, we always know how to show our client's project in the best light and compile correct screening questions for each specific customer.
Andriana,
Organization Development Director
Node JS Development Company vs Freelance Programmer: Outsourcing Programming Tasks
It is not new that fast and highly responsive applications capable of processing tons of data are now becoming the new standard for optimal web and mobile applications and Node.js web application development take the lead in it. So far you have read what Node.js is and how advantageous it will be to hire Node JS developers to work with your development team. There is a vast number of Node.js developers for hire for your development project; however, you need to understand whether you need for one expert or a dedicated team of developers.
If you need a person proficient in Node JS app development to join your team of specialists and bring fresh ideas and new approaches to your project, a freelance programmer will fit your needs best. In case you need to develop a project from scratch, you have an idea but don't know specialties and functions of Node.js framework, it is worth to find a qualified Node JS development company to build your project from scratch and provide any additional services per your request. What is more, a Node company with a library of knowledge and a bunch of successfully developed projects probably has more experienced programmers to create a project exactly how you see it. When it comes to an individual specialist in Node.js framework, he may not be as skilled as a Node JS development company with its overall experience in the field.
With Mobilunity, you can be assured that all our developers have been vetted and are highly recommended. Our company offers quality and dedicated work at an affordable price; we will provide you with CVs of our Node programming specialists so that you choose which developer fits the best to collaborate with you in improving and optimizing your website at a manageable cost. If you are looking for a reliable Node.js development company and a dedicated team of professionals to hire remotely, collaborate with you on streamlining your development processes as well as optimizing your website. Mobilunity can provide you with a top-quality assistance in Node.js development with our diverse pool of highly experienced professional developers!
Does Mobilunity Provide Node.js Development Services?
Founded in 2010, Mobilunity has a huge package of experience in assisting development teams and developing projects from the ground up. We have a big number of happy clients in different corners of the world. With nearly 20 dedicated teams working on various projects for our customers worldwide, Mobilunity receives over 10 requests monthly from people meeting some technical issues, and we are extremely glad to assist them or provide devs. Being located in Kyiv, Ukraine, we don't have any problems with finding a well-educated and proficient programmer even with the knowledge of a very rare and complicated technology. Ukraine is known for having the greatest amount of various developers, who provide a high-quality work. Get in touch with us and we will find a perfect solution for you, too!
If you are interested in hiring a Node.js developer to contribute to your project, feel free to get in touch with Mobilunity team.