How Much Does It Cost to Hire a Node.js Developer in Ukraine?
What exactly is Node.js and a Node.js developer? Node.js is an open source, asynchronous, event-driven JavaScript framework designed for I/O intensive and scalable web applications like multimedia streaming and single page applications. Node.js is capable of dynamic creation of page content, server file manipulation, form data collection, as well as database content management. Simply put, Node.js is fast, light, and a modern method of executing network and scalable applications, which makes it one of the most popular web development tools for developers. It is also worth noting that despite its asynchronous and event-driven state, developers can work Node.js with parallel and functional programming by using some of the libraries built for either one. Node.js developers or coders are those developers who are highly well-versed in building and improving application using Node.js. Let's find out the popularity of Node.js, main projects developed with it, NodeJS developer salary and how Node JS developer resume should look like.
Is Anyone Interested?
Based on the Developer Survey conducted this year by StackOverflow, Node.js is the most commonly used technology in the world and is the most wanted language that most programmers want to develop projects with. From the 2016 User Survey Report conducted by the Node.js Foundation, there are 3.5 million individuals using Node.js worldwide and is growing at 100% rate, annually. Also, 62% of the developer respondents of the survey that use Node.js in development, work on both frontend and backend.
Both studies show that there has been a marked interest and use of the framework. More and more businesses look for Node js developers for hire. The graph below shows the trend in the interest on Node.js developers over the last 12 months.
Google Trends data on Worldwide Google Search Trends for Node.js

According to Google Trends, the United Kingdom has the highest interest in Node.js developers.
Google Trends data on Worldwide Google Search Trends for Node.js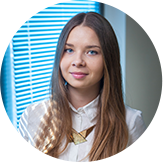 I can say with confidence that Node.js is gaining its popularity from quarter to quarter: such requests are not rare anymore, so it's important for us to have our CVs database updated with recent suitable Node.js candidates.
Kseniya,
Business Development Associate
Sample of Node.js Developer Resume
Given that Node.js is great and has become one of the popular server-side development tools, you may ask, what makes a good Node.js developer? A Node.js developer resume should contain something similar to this:
Testimonials, Anyone?
There are numerous ways of using Node.js. A great Node.js developer can either use it to build from the ground up or integrate it into existing code with the goal of improving it. Increased interest is good, but testament to its usability and efficiency proves how good Node.js can be for your development projects. Below are some of the websites that have benefited from integrating Node.js into their development.
Paypal
One of the well-known online payment platforms available with millions of users, PayPal improved its build by streamlining its code and using Node.js to enable both browser and server-side of their application be coded in JavaScript. This improved development time and reduced the number of lines of code.
LinkedIn
A business and career-oriented social networking website, LinkedIn uses Node.js to streamline and manage their server-side services and application. Similar to Paypal, with Node.js LinkedIn's development and the application performance increased and the resources needed was reduced.
Netflix
Being the largest online video streaming platform, Netflix has millions of users and goes through so much traffic. Netflix uses Node.js for the entirety of its user interface. And with this, they were able to decrease build time while at the same time increasing the customization capability of the website.
Uber
Uber is one of the biggest American online transportation network company providing its services to over 60 countries worldwide. With its asynchronous event-driven processing, Node.js addresses the issue of processing so much information from numerous sources at different times at the quickest possible time as well as dealing with errors on the fly, improving the code along the way.
How do I Hire One?
With today's numerous ways to communicate, you can look for Node.js developers for hire and hire Node.js programmers in many ways, The most traditional of which is to hire locally and in your region or country. But with the ability to communicate worldwide, you can now hire remotely or offsite. Being able to hire remote Node.js developers provides you with a much larger pool of highly qualified professional developers that would be amazing candidates to collaborate with you on your development project!
How Much Would it Cost?
Because Node.js has become one of the most popular JavaScript framework for web development, Node.js coders are highly demanded. With the rise of demand, the cost of hiring a Node.js programmer is highly competitive. Below are the average annual salary for Node.js developers from various countries:
From the numbers listed above, hiring a Node.js developer from a company able to provide the remote services in Ukraine would be the most cost-efficient and more practical choice. Aside from location, the salary of Node.js coders also vary depending on the number of years of experience that they have. The average Node.js developer salary in Ukraine is $23,802, but it will be highly dependent on the complexity of the project as well as the amount of experience that the programmer has. According to DOU, the average cost of Node.js developer in Ukraine is $2,000. In Kiev Node.js devs make $2,000, in Lviv – $1,800, in Dnipro – $1,300 and in Kharkiv – $1,500. Although, the salaries may vary depending on the developers experience and years of working:
| | | | |
| --- | --- | --- | --- |
| Number of Years of Experience | Minimum | Median | Maximum |
| 0-2 years | $1,000 | $1,400 | $2,000 |
| 2-5 years | $1,500 | $2,000 | $2,350 |
| 5+ years | $2,000 | $2,200 | $2,650 |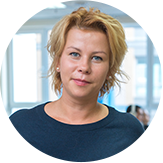 There is indeed a high demand for Node developers in Ukraine, since our team receives requests to build dev teams with Node skills as a must monthly. Thanks to our recruiting approaches developed within years, we always know how to show our client's project in the best light and compile correct screening questions for each specific customer.
Andriana,
Organization Development Director
Why Should I Hire One?
So far you have read what Node.js is and how advantageous it will be to have a Node.js developer in your development team. In addition to this, fast and highly responsive applications capable of processing tons of data are now becoming the new standard for optimal web and mobile applications, and the vast number of possible candidates to hire for your development project becomes more of a hassle and less convenient. With Mobilunity, you can be assured that all our developers have been vetted and are highly recommended. Our company offers quality and dedicated work at an affordable price; we will provide you with the Node.js developer cv so that you choose which developer fits the best to collaborate with you in improving and optimizing your website at a manageable cost. If you are looking for Node.js developer to hire remotely and collaborate with you on streamlining your development processes as well as optimizing your website, our company, Mobilunity, can provide you a dedicated and highly skilled Node.js developer from our diverse pool of highly experienced professional developers!
Why Mobilunity?
Founded in 2010, Mobilunity has huge package of experience in providing dedicated development teams in different corners of the world. We have nearly 20 dedicated teams working on various projects for our customers worldwide. Mobilunity receives over 10 requests monthly from people meeting some technical issues, and we are extremely glad to assist them or provide devs. Being located in Kyiv, Ukraine, we don't have any problems with finding a well-educated and proficient programmer even with the knowledge of a very rare and complicated technology, as Ukraine is known for having the greatest amount of various developers, who provide a high quality work. Get in touch with us and we will find a perfect solution for you!
If you are interested in hiring a Node.js developer for your development team, get in touch with us and we will help you find the Node.js developer that best fit your project!