How Much Does It Cost to Hire a React.js Developer in Ukraine?
React programmer is a front-end developer proficient in JavaScript and using specific libraries to code. ReactJS is a JavaScript library used for the website that renders views of the webpage or application, according to Alexis Mangin. There's been a hype over React.Jr recently, so React devs became one of the most demanded experts on the IT market, as Codeburst puts it. StackOverflow informs that in 2017, React is among the fastest growing targets. Jobs targeted to ReactJS coders include such titles as Front End JavaScript Engineer, Senior UX Developer, and Full Stack Web Developer.
Why React Devs Are Popular
According to the survey by StackOverflow, JavaScript is the most popular technology used by developers in 2017. 62,5% of the survey participants with React being on the 4th place with 19,5%, however 66.9% of respondents claimed that React is the most loved technology. Moreover, there are large-scale websites that use React database like Facebook, Netflix, Yahoo, Khan Academy, New York Times, Instagram and others. JavaScript is one of the most quickly moving technologies nowadays.

Benefits of React.Js
Rendering. When using React, it is easy to find out how a component is rendered by looking at the render function.
React can be rendered on the server-side. It makes the product more readable and maintainable.
Flexible, as it can be used with any framework (Backbone.js, Angular.js) as it is only a view layer.
It is easy to test, and you can also integrate some tools. This is what junior React developer would love about React.
Optimization: when your React app is loaded in the browser, all the components that you created are rendered.
React unites CSS, JavaScript and HTML are all in one component, so during creation of a React component, all three can be used in any part. So no need to create any additional external scripts and then import them.
React is asynchronous, so there will be no blocking actions in the app.
When using React feel free to install external React libraries.
Security. There are less XSS vulnerabilities.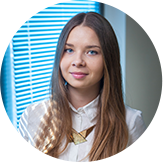 React.js developers are very valuable among our customers for sure. We have received more than 10 requests to find a React.js developer for various projects, so it is necessary for us to update our CV database with qualified React.js developers.
Kseniya,
Business Development Associate
Ukrainian React Coder: Salary & Rates
As React is a JavaScript framework widely used in front-end, we'll consider the salaries of JavaScript coders in Ukraine. DOU demonstrates that in October, 2017, the city with the most demand of React devs is Kiev, followed by Kharkiv, Dnipro, Lviv and Odessa. Djinni has the identical rates with an exception of Dnipro and Lviv that switched places. Djinni also shows the salaries of the front-end devs who work on React.js, React developer salary varies between $1,500 to $2,500 per month, $1,500 referring to the junior React developer salary, while seniors are offered up to $3,800 per month. DOU informs that the cost of React JS developer in Ukraine is $1,800, which means that the annual rate of a React coder is $21,600. In Kiev JavaScript software engineer's median salary is $2,000 per month, in Kharkiv they make $1,500, in Dnipro – $1,300, in Lviv – $1,800.
Hiring dedicated React JS developers allows you to save over 50% compared to outsourcing, and around 70% compared to in-house hiring.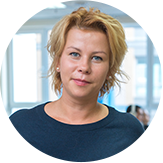 We receive frequent requests to build a React development team for our clients, among the fresh requests is inquiry for full stack developer with Angular and React skills. The popularity of this JavaScript framework has become very popular since May, 2017. And we are still glad to make our customers happy with the professional and talented developers.
Andriana,
Organization Development Director
React Developer – Experience and Skills
A medium React programmer should have knowledge about the following techniques. JavaScript arrays, array operations, event propagation, dependency management, routes, promise, query string.
When you hire a front-end developer to work with React.js, consider the following skills of the candidates:
A front end developer with over 5 years of experience.
Worked on projects with ReactJS for at least six months.
Thorough understanding of Flux Architecture.
Strong HTML5 skills, usage of hooks in XHTML.
Strong basics of JavaScript, DOM manipulation, JavaScript object model, and JS module system.
Understanding of CSS/CSS3, CSS Pre-processors & PostCSS.
Principles of responsiveness and have at least 5 successful responsive solutions in portfolio.
UI should meet the design requirements.
Worked with data structure libraries.
Perfect communication skills (verbal and written), eager to learn new technologies.
Familiarity with RESTful APIs and modern authorization mechanisms.
Sample CV of a Professional React Dev
How to Hire React Developers
Hiring a developer might not seem to be a big deal, however, sometimes dealing with freelance is something that an HR or business owner would prefer to avoid. Freelance is an option when you plan to hire a one-time developer for a single small project. It's cheap, but if you work on a more serious start-up or run a business, you might need a dedicated team of developers that would have enough engagement in your project. Plus you will not have to spend a lot of time to test the freelance devs. So, if you need a dedicated team, hiring freelance web devs will be quite time-consuming and exhausting.
Outsourcing is hiring a selected team if you want to delegate the project to them. In result of your cooperation, you will receive a ready final product. Outsourcing is expensive, it deals with remote work of the whole team, and helps you to avoid team management with just getting the result only.
Outstaffing is about asking an experienced company to find the necessary experts for your future dedicated team of professionals that would work on your multiple projects remotely, and be engaged with what they are doing. Outstaffing requires project management by the representative of your company.
Forbes claims that the process of onboarding new employees into the project will take basically 90 days for the new team member to fully integrate. Moreover, if you hire from the local market, you will have to spend time and resources for training of the newcomers.
But you don't have that much time!
The solution here is to hire a team of devs from an outstaffing company. If a dedicated team is working on your future product, you are at 50% success. Hiring a team from an outstaffing firm is always cheaper, more flexible and reliable. You will save at least 90 days of time and will not have to bother about providing a special training for your new team members, as the outstaffing company will make all the necessary hiring and onboarding arrangements.
Popularity of Mobilunity
Mobilunity was founded in 2010 and since then has been providing dedicated development teams to various countries worldwide. We can say with the confidence, that the popularity of Mobilunity is rising with every year, as we have established great relationships with our clients and have won their trust, which we are really proud of, because we think that the satisfaction of all professional needs of our customers is the main key to success. As on 2017 year end we have nearly 20 development teams, which provide services to different countries. Mobilunity has an experience working with such countries as Germany, Israel, Switzerland, Denmark, USA, Canada and China. We are always glad to meet new challenges and goals. No matter how complicated your project is, let us know and we will provide a perfect solution to you!
Hire React developer or a dedicated team of devs at Mobilunity to ensure your project with highly knowledgeable and experienced staff.