How Much Does It Cost to Hire an AngularJS Developer in Ukraine?
AngularJS is a JavaScript framework that was designed with the goal to dynamically create web apps. The framework is purely JavaScript and was developed for frontend-based web application development. The framework applies the MVC architecture and templates, which help organize the code and its processes, as well as Directives that aid in enhancing the functionality of HTML elements. AngularJS is a framework that is highly extensible and can be used alongside or integrated with other frameworks and libraries, it is also highly customizable to your needs.
There have been a number of updates to the AngularJS framework, the most notable are Angular 1 and Angular 2. Angular 1, commonly known as AngularJS, is the first version of this framework and is a JavaScript-based web application platform. While Angular 2 and all succeeding version, which will be known as Angular, however refers to the shift from the old AngularJS framework to a new one. Angular is a break from the older version of AngularJS, with a Typescript-based frontend application platform. AngularJS developers are highly skilled and well-versed in JavaScript, while Angular 2 developers and Angular 4 developers are highly skilled and knowledgeable in TypeScript. Here we are going to delve into Angular, Angular 4 and Angular 2 developer salary.
Is There Interest in AngularJS?
Despite the move from AngularJS to Angular, updates to AngularJS is still ongoing and the framework is still being used by numerous developers in their web application development projects. Based on the Developer Survey conducted this year by StackOverflow, AngularJS belongs to the top 5 most commonly used technologies in the world and is among the top most popular programming language in 2016. It is also among the top programming languages that most developers want to use in developing their projects.
According to Google Trends, in the past 12 months; there have been a notable interest in Angular JS developers.
Google Trends data on Worldwide Google Search Trends for AngularJS
Also, India has the highest ranks in terms of interest in AngularJS developers worldwide.
Google Trends data on Worldwide Google Search Trends for AngularJS
AngularJS have been used in the development and improvement of numerous websites. Because of how easy it is to work with and with high quality web and mobile applications being produced with it, it has become one of the most popular and most used frontend frameworks! To have a better grasp at what frontend development with AngularJS looks like, below are just some of the websites developed using AngularJS.
Aside from those listed above, Youtube has also used AngularJS for their PS3, Netflix is also incorporated AngularJS. Below are some of the mobile application that have been developed using AngularJS: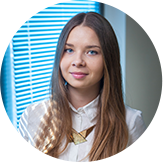 Angular is one of the most demanded technology for sure. I can assure that the most requests come from clients, who are looking for talented experienced Angular developers for working on various types of projects.
Kseniya,
Business Development Associate
Why So Popular?
A good tool can be great in the hands of masterful users. In this case, skilled AngularJS programmers are more than capable of integrating AngularJS with other frameworks and libraries in order to better address the needs of their clients. And because AngularJS is purely JavaScript, AngularJS developers are more than capable of reusing, testing, and maintaining their code, making them efficient coders. We provided AngularJS resumes below to for you to understand some the things that you might look for in a good AngularJS developer resume:
How Much Would It Cost to Hire AngularJS developer
Because AngularJS has become one of the most popular frontend frameworks for web development, AngularJS coders have become highly demanded. AngularJS engineer salary has become highly competitive with the rise in demand. Below are the average annual Angular JS developer salary from various countries:
From the numbers listed above, hiring an AngularJS developer from a company in Ukraine would be the most cost-efficient and more practical choice. Aside from location, AngularJS programmer salary also vary depending on the number of years of experience that they have. Based on DOU, the average cost of AngularJS developer in Ukraine is $23,802 per year, which means that the monthly Angular developer salary is $2,000. In Kiev AngularJS developers make $2,000, in Kharkiv – $1,500, in Odessa – $1,800.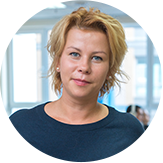 Angular is a pretty popular framework and such developers are very demanded in Ukraine. Our recruitment team is asked to find Angular.js developer quite often (just recently we had to build a team of 4 Angular.js engineers with a senior Team Lead on them). Expertise of our recruiting team allows to find the best programmers for our clients.
Andriana,
Organization Development Director
How Do I Hire an AngularJS Developer?
There are a number of ways to a hire AngularJS developer, you could go the traditional route of hiring a professional AngularJS developer locally near you. However with globalization, access to workforce are no longer limited to geography, you can now hire AngularJS developers from the other side of the world. Here at Mobilunity we provide remote services, both outstaffing and outsourcing, of our pool of highly skilled and experienced professional developers, of which AngularJS belongs. Outsourcing services provides you with the opportunity to hire a professional developer to work on your development projects, outstaffing is hiring a dedicated team of professional developers to collaborate with you on developing projects.
Why Should I Hire an AngularJS Developer?
AngularJS is a great tool to develop modern and highly-efficient web applications. With the right AngularJS programmer, your web development projects will be a breeze to work on! If you are looking for AngularJS developer to hire remotely and collaborate with you on improving your frontend structure and processes, as well as develop highly responsive web and mobile applications, Mobilunity, can provide you a dedicated and highly skilled AngularJS developer from our diverse pool of highly experienced professional developers! With Mobilunity, you can be assured that all our developers come highly recommended. Our company offers quality and dedicated work at an affordable price; we will provide you with the AngularJS developer that will best fit to collaborate with you in improving and optimizing your web and mobile applications at a manageable cost.
Popularity of Mobilunity
Mobilunity has been providing dedicated development teams to different countries for 7 years. Located in the middle of Europe, it takes approximately 2 hours for our clients to reach us and visit in our office. Besides, there is almost no time-zone difference for our customers making the work convenient and faster for everyone. Our whole team will be glad to help you out with your technical issues and give a nice advice if you are in trouble. With the huge pool of talented and well-educated developers, it is not a problem to find an appropriate expert for you, especially with our recruitment team of professionals. No matter how hard and complicated your project is and how skilled a programmer should be, we guarantee you to provide a perfect developer within 2-4 weeks.
If you are looking to hire an AngularJS developer for your development projects, Mobilunity can help you find the AngularJS developer that best fit your project!