ReactJS Services and Process of Finding Proper React Developers
React JS is an open-source JavaScript library released under MIT license. It was developed by the Facebook developers' team in 2013. This is on very well known for its capability of server-side rendering SSR. React JS library offers great flexibility, high performance, and dynamic content changes in real-time views of your web environment with the help of virtual DOM capability.
Since its release in 2013 by Facebook, React has quickly emerged to be the most widely used JavaScript frameworks and libraries on Github, with 70,396 stars as of writing. With its "learn once, write anywhere" paradigm, it's certainly among the most promising libraries and frameworks today. Let's find out about React development and the options to hire React developers.
React JS Development Overview
React JS development is the front-end web development of user interface (UI) of high-performance mobile apps and single page web environments. It allows developers to build mobile-friendly, dynamic, responsive, interactive, and SEO friendly user interfaces. React JS development uses the JavaScript as the core software language.
React JS is one of the most popular and fastest growing JavaScript libraries in the world. It stands on the 4th position in the most popular framework with (19.5%) share in the survey. The growth of React JS library in the last couple of years is much higher than its competitors in the marketplace. Every React JS development company is aggressively in search for the React JS developers to cater to the market demand of React.js web development services.
Owing to the great features, capabilities, and flexibility enterprises are choosing to hire React JS development company for completing their React front-end development projects. The demand for React services in the field of React app development is also very high nowadays.
Benefits of Using React.js Development
Rendering. When using React, it is easy to find out how a component is rendered by looking at the render function.
React can be rendered on the server-side. It makes the product more readable and maintainable.
Flexible, as it can be used with any framework (Backbone.js, Angular.js) as it is only a view layer.
It is easy to test, and you can also integrate some tools. This is what junior React developer would love about React.
Optimization: when your React app is loaded in the browser, all the components that you created are rendered.
React unites CSS, JavaScript and HTML are all in one component, so during creation of a React component, all three can be used in any part. So no need to create any additional external scripts and then import them.
React is asynchronous, so there will be no blocking actions in the app.
When using React feel free to install external React libraries.
Security. There are less XSS vulnerabilities.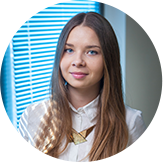 React.js developers are very valuable among our customers for sure. We have received more than 10 requests to find a React.js developer for various projects, so it is necessary for us to update our CV database with qualified React.js developers.
Kseniya,
Business Development Associate
Salient Features of React JS Development Library
React.js development services are in high demand due to the great features it offers to the web and application developers. According to the Toptal website's internal data, React JS was the second largest sought skill set after Angular JS on the website in 2018 with a huge change of +353.7% year-over-year. This demand is governed by the great feature that the React JS offers to the developers and enterprises.
A few very important features of React JS development library are listed below:
It is easy to use create interactive user interfaces (UIs) with React JS library due to its declarative nature of the code
React JS code is easy to debug
Supports the notion, "Learn Once, Write Anywhere"
Powerful capability of reusing the code
Supports virtual DOM to increase the performance of the web apps
Powerful server-side rendering SSR features
It is an open-source platform, which is free to use
Supports JSX to add XML syntax to the JavaScript code
Supports ECMAScript 6 and ES7
Powerful server-side communication through hooks
Support the FLUX library for data management across the environment.
Why to Choose React Web Service?
The demand for React services is increasing very fast during the past few years owing to the great features it offers to the React JS Development Company and enterprises. A few important reasons to choose the React engineering and web services to include:
Both easy to learn and use
High performance and fast loading apps
Quicker web development
Offers rich user interfaces (UIs)
Easy debugging of code
Powered by the Facebook developer community
The increasing trend of React JS adaptability
React Native responsive mobile app development
JSX allows the insertion of HTML code into the JavaScript easily
Integrated modules for testing, routing, app status, and other features
Free to use
Great for search engine optimization SEO
Huge demand for React JS web projects in the market
Owing to the above reasons, a large number of enterprises are aggressively searching to hire ReactJS development company for their upcoming projects.
The Popularity of React Programming
As it has been already mentioned, React JS is one of the fastest growing JavaScript libraries in the marketplace. It is being used by numerous big brands on the internet like Facebook, Instagram, New York Times, Yahoo, Netflix, and many others. According to the Built With information, React JS is already used by more than 843,892 websites across the world. Among those websites, more than 12,208 websites are in the top million websites in the world.
The total number of live websites powered by React JS is about 420,066, according to the SimilarTech statistics. A huge surge of over 35.4% in the live websites was noticed in the past month only. Yahoo is the top website with over 4.4 billion visits per month. The US, Russia, and the UK are the top three countries with the highest number of websites powered by the React JS library.
React JS has more than 117,637 stars and 21,333 forks on the GitHub website. The contributor community has expanded to over 1,271 contributors after 104 major releases of the library.
The demand for the React JS coders is very high as compared to the availability of the skilled React JS web developers. According to The News Stack website, the ratio of employers demanding the React JS developers is about 33% but the supply stands at just below 19% with React JS skills. This is a clear indicator of the popularity of React JS in the marketplace.
Samples of Major React JS Project
Thousands of great React JS projects that are doing very well are available in the marketplace. A few of those major projects are mentioned below:
#1 Rekit
Rekit is a very powerful toolkit used for the React JS platform. It is developed with the React JS and JavaScript language. It helps you build the scalable web applications with React JS and its other components like React Router and Redux. It has more than 3,580 stars on the GitHub with 26 stable releases till date.
#2 Kutt
Kutt is a very useful application to reduce the URLs in a very simple and easy way. There are more than 1,646 stars and 4 stable software releases. This web service is developed with the React JS library. You can also manage your links with the help of this service. This service also offers you the capability to views statistics of your links.
#3 Flame Graph
This is a very useful project for creating flame graphs for visualizing the profile data. There more than 275 stars on the GitHub. This application makes the graph creation so simple and easy. The flame graph contains a tree of nodes and each node consists of a name string and value in numbers.
Available ReactJS Services
There are different methods by which you can avail of React JS services. Among the most common are:
Hiring from local market

– you can directly hire React developers from your local market through job posting websites;

Outsourcing

– you can outsource your project to a company which would develop your entire project for you (it may be a foreign company);

IT Staffing

– you can hire JavaScript programmer from staffing companies, who handle the screening process for you;

Offshoring or nearshoring

 – offshoring companies offer dedicated developers you can hire for a certain period, during which they remain in the company's office but report directly to you.
Among these, offshoring gives you the best value for your money because it gives you full control over your project and allows you to easily scale your team depending on your needs. However, time zone, location, and cultural differences may pose challenges, so selecting the right offshoring company is critical.
Cost Comparison of React JS Services
Comparing ReactJS salaries from different countries may help in deciding which country to hire from. According to Neuvoo, the average annual salaries for React developers are as follows:
US – $94,778
UK – £53,274 ($69,072)
Germany – €83,679 ($95,433)
France – €43,222 ($56,087)
In comparison, according to PayScale, in Ukraine, the average salary for JavaScript developers, including ReactJS developers, is $19,200. Hiring from Ukraine would therefore result in huge savings.
Hiring dedicated React JS developers allows you to save over 50% compared to outsourcing, and around 70% compared to in-house hiring.
React Development Companies in the World
There are thousands of React development companies in the world. Numerous new companies are emerging in the marketplace consistently from all countries of the world. According to the Siftery Discover website information, React JS owns about 4% of the JavaScript MVC market share. There is a consistent increase in the market share of React JS library for the last couple of years. To cater to the increasing demand new React JS web development companies are also being established regularly in the world.
The demand for the React JS library is eating up the shares of other JavaScript platforms very fast. This increasing demand for React JS is pushing for the increase in the number of React JS development companies across the globe.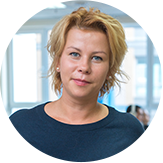 We receive frequent requests to build a React development team for our clients, among the fresh requests is inquiry for full stack developer with Angular and React skills. The popularity of this JavaScript framework has become very popular since May, 2017. And we are still glad to make our customers happy with the professional and talented developers.
Andriana,
Organization Development Director
Ukrainian Companies & React Web Services
Ukraine has become one of the fastest growing hubs for software development and web services companies in the Eastern part of Europe. Owing to its great geographical location, highly skilled IT talent and professional work attitude, many enterprises from all over the world choose for the Ukrainian React web services and other software projects.
According to the Good Firms list, there are about 300 React web service companies in the country that are very well known for their work-quality, experience, and success rates like Mobilunity and others. According to the Extract website information, there are about 50 React JS valuable companies including Mobilunity in Ukraine.
Other than those top rated companies, a large number of small companies are also working in the field of software web development.
Popularity of Mobilunity
Mobilunity was founded in 2010 and since then has been providing dedicated development teams to various countries worldwide. We can say with the confidence, that the popularity of Mobilunity is rising with every year, as we have established great relationships with our clients and have won their trust, which we are really proud of, because we think that the satisfaction of all professional needs of our customers is the main key to success. As on 2017 year end we have nearly 20 development teams, which provide services to different countries. Mobilunity has an experience working with such countries as Germany, Israel, Switzerland, Denmark, USA, Canada and China. We are always glad to meet new challenges and goals. No matter how complicated your project is, let us know and we will provide a perfect solution to you!
If you want to resort to R
eact JS development company, you are in the right place! Contact us now to get more details!