ReactJS Services and Process of Finding Proper React Developers
Since its release in 2013 by Facebook, React has quickly emerged to be the most widely used JavaScript frameworks and libraries on Github, with 70,396 stars as of writing. With its "learn once, write anywhere" paradigm, it's certainly among the most promising libraries and frameworks today.
Why React Devs Are Popular
According to the survey by StackOverflow, JavaScript is the most popular technology used by developers in 2017. 62,5% of the survey participants with React being on the 4th place with 19,5%, however 66.9% of respondents claimed that React is the most loved technology. Moreover, there are large-scale websites that use React database like Facebook, Netflix, Yahoo, Khan Academy, New York Times, Instagram and others. JavaScript is one of the most quickly moving technologies nowadays.

Benefits of React.Js
Rendering. When using React, it is easy to find out how a component is rendered by looking at the render function.
React can be rendered on the server-side. It makes the product more readable and maintainable.
Flexible, as it can be used with any framework (Backbone.js, Angular.js) as it is only a view layer.
It is easy to test, and you can also integrate some tools. This is what junior React developer would love about React.
Optimization: when your React app is loaded in the browser, all the components that you created are rendered.
React unites CSS, JavaScript and HTML are all in one component, so during creation of a React component, all three can be used in any part. So no need to create any additional external scripts and then import them.
React is asynchronous, so there will be no blocking actions in the app.
When using React feel free to install external React libraries.
Security. There are less XSS vulnerabilities.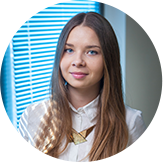 React.js developers are very valuable among our customers for sure. We have received more than 10 requests to find a React.js developer for various projects, so it is necessary for us to update our CV database with qualified React.js developers.
Kseniya,
Business Development Associate
You can read more about how to hire ReactJS developer from our blog.
Available ReactJS Services
There are different methods by which you can avail of React JS services. Among the most common are:
Hiring from local market

– you can directly hire React developers from your local market through job posting websites;
Outsourcing

– you can outsource your project to a company which would develop your entire project for you (it may be a foreign company);

IT Staffing

– you can hire Javascript programmer from staffing companies, who handle the screening process for you;

Offshoring or nearshoring

 – offshoring companies offer dedicated developers you can hire for a certain period, during which they remain in the company's office but report directly to you.
Among these, offshoring gives you the best value for your money because it gives you full control over your project and allows you to easily scale your team depending on your needs. However, time zone, location, and cultural differences may pose challenges, so selecting the right offshoring company is critical.
Cost Comparison of React JS Services
Comparing ReactJS salaries from different countries may help in deciding which country to hire from. According to Neuvoo, the average annual salaries for React developers are as follows:
In comparison, according to PayScale, in Ukraine, the average salary for JavaScript developers, including ReactJS developers, is $19,200. Hiring from Ukraine would therefore result in huge savings.
React developer salaries across different countries (data taken from Neuvoo and PayScale)
React Developer Salary in Ukraine
As React is a JavaScript framework widely used in front-end, we'll consider the salaries of JavaScript coders in Ukraine. DOU demonstrates that in October, 2017, the city with the most demand of React devs is Kiev, followed by Kharkiv, Dnipro, Lviv and Odessa. Djinni has the identical rates with an exception of Dnipro and Lviv that switched places. Djinni also shows the salaries of the front-end devs who work on React.js, React developer salary varies between $1,500 to $2,500 per month, $1,500 referring to the junior React developer salary, while seniors are offered up to $3,800 per month. DOU informs that the cost of React JS developer in Ukraine is $1,800, which means that the annual rate of a React coder is $21,600. In Kiev JavaScript software engineer's median salary is $2,000 per month, in Kharkiv they make $1,500, in Dnipro – $1,300, in Lviv – $1,800.
Hiring dedicated React JS developers allows you to save over 50% compared to outsourcing, and around 70% compared to in-house hiring.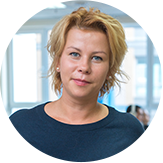 We receive frequent requests to build a React development team for our clients, among the fresh requests is inquiry for full stack developer with Angular and React skills. The popularity of this JavaScript framework has become very popular since May, 2017. And we are still glad to make our customers happy with the professional and talented developers.
Andriana,
Organization Development Director
How to Hire JavaScript Programmer
You can build a team of React developers and get ReactJS services from an offshoring company in five easy steps.
1. Select an Offshoring Company
The first step is to select an offshoring company. A dedicated teams provider like Mobilunity would be a great choice, as we provide ReactJS services and React consulting at very reasonable rates. Located in Ukraine, we are at most only an hour or two from most European countries.
2. Establish Project Details and Resources Required
You can then discuss the details of the projects with your chosen company. This enables you to decide the type and number of developers you will need.
3. Select Developers
The next and most important step would be to screen the available candidates and select react developers for hire. This involves interviewing the candidates to learn about them and their skills.
4. Agree on Payment Details
You would then have to agree on the payment details, such as the salaries for different developers.
5. Onboard Developers
Once you have chosen your developers, you may now brief them about the project details, and they can begin with development.
Sample Questions for Interview
Here are some interview questions you can ask developers to gauge their competency.
How long have you been using ReactJS?
What is React and why is it useful?
What are the disadvantages and limitations of React?
What features/functionalities of React have you used most often, and which ones haven't you used?
How is ReactJS different from other JavaScript libraries or frameworks you've used?
React Developer – Experience and Skills
A medium React programmer should have knowledge about the following techniques. JavaScript arrays, array operations, event propagation, dependency management, routes, promise, query string.
When you hire a front-end developer to work with React.js, consider the following skills of the candidates:
A front end developer with over 5 years of experience.
Worked on projects with ReactJS for at least six months.
Thorough understanding of Flux Architecture.
Strong HTML5 skills, usage of hooks in XHTML.
Strong basics of JavaScript, DOM manipulation, JavaScript object model, and JS module system.
Understanding of CSS/CSS3, CSS Pre-processors & PostCSS.
Principles of responsiveness and have at least 5 successful responsive solutions in portfolio.
UI should meet the design requirements.
Worked with data structure libraries.
Perfect communication skills (verbal and written), eager to learn new technologies.
Familiarity with RESTful APIs and modern authorization mechanisms.
Sample tasks to test a ReactJS developer
Here are some sample tasks to further test a developer's mastery of ReactJS.
Set up a web project environment for ReactJS
This task will test the developer's technical independence, as this is typically done by technical leads in large teams.
Using ReactJS, create a simple string listing web application with the following functionalities:
A textbox allows a user to type in a task
An "add task" button will add the textbox contents to the list of tasks
A section on the page displays the list of tasks, which updates every time the user adds a new task
Each task should have a "delete" button, and clicking it will remove that task from the list
This task should be easy to complete and shouldn't take more than an hour for skilled developers.
Hire JavaScript Programmer Now
Having explored the available means of getting ReactJS services, offshoring from Ukraine is undoubtedly the most practical way to go. We've also shared the plain and simple process of offshoring developers, as well as some helpful guidelines on how to screen your candidates to find the best talents. Now, it's time to begin with the first step in the process!
Sample CV of React and JavaScript Developers from Our Pipeline
Vadym B.
Experience:
Single-page application development (ReactJS, Angular2)
Building hybrid cross-platform applications (React Native)
NodeJS server-side development
Skills:
Languages: HTML, CSS, SASS, LESS, TypeScript, JS (ES6), C# (base), SQL (base), Python (base), Stylus, CoffeScript
Frameworks: AngularJS, Angular2 (base), Backbone, React (Redux, Reflux, Flux), ReactNative(base), SocketIO, Bootstrap, Cordova + PhoneGap + Ionic(base)
Builders: Browserify, Gulp, Grunt, Bower, Webpack
Libraries: JQuery, Loads, MomentJS,
Technologies: Ajax, JSON, SOAP(base), XSLT(base), NodeJS, WebSockets, Canvas, Mobile device layouts
DB's: MYSQL (base), Redis (base), MongoDB (base), PostgresSQL (base)
Testing: TDD, Unit-tests, Jest, Mocha, Karma, Selenium(base), Enzyme
VCS: Svn, Git
Conventions: REST, BEM
OS: OSX, Ubuntu, Windows
API experience: Facebook, Google maps, VKontake
Services experience: AWS
Processes: Agile, Kanban
Task tracking: Redmine, Jira
Popularity of Mobilunity
Mobilunity was founded in 2010 and since then has been providing dedicated development teams to various countries worldwide. We can say with the confidence, that the popularity of Mobilunity is rising with every year, as we have established great relationships with our clients and have won their trust, which we are really proud of, because we think that the satisfaction of all professional needs of our customers is the main key to success. As on 2017 year end we have nearly 20 development teams, which provide services to different countries. Mobilunity has an experience working with such countries as Germany, Israel, Switzerland, Denmark, USA, Canada and China. We are always glad to meet new challenges and goals. No matter how complicated your project is, let us know and we will provide a perfect solution to you!
Contact us now if you want to hire JavaScript programmer and let's get started on your project!