Everything You Would Need to Know Before Hiring Game Developer
Game development industry is rapidly growing, updating, and upgrading the existing technologies and products. The number of game lovers all over the globe is in the millions and every second person has enjoyed or at least experienced playing computer games. Moreover, mobile game development keeps up with desktop versions, raving with a tremendous number of innovations such as AR and AI usage. HD graphics, amazing sound and visual effects, ultra-high loading speed – all these are essential features of a good game nowadays. Therefore, for a video game developer company, it is vital to hire a high-class game development specialist with a huge experience and a creative working approach. Unity game developers prove to be the most skillful experts with a wide range of features offered by this engine. This post contains a comprehensive guide to game development features and trends and will help you to find and hire a game developer with a strong experience and Unity knowledge.
Trends in Game Development in 2022: What Engine to Choose?
Game development industry is growing apace and no wonder that there is great competition among video games companies and game programmers on the market. Game developers constantly launch more and more advanced technologies and innovations, combining strategical, technical, and creative approaches to attract and entertain gaming auditory.
Among the main trends in game development this year are AR/VR technologies, predominating mobile games development, streaming, and surprisingly, raising popularity of non-gaming celebrities used for game advertising. For example, when Drake, Travis Scott, and JuJu Smith-Schuster joined Fortnite stream of a famous Tyler "Ninja" Blevins streamer, Twitch broke its record of a most-viewed stream by a single player. The stream hit 628,000 concurrent viewers, and that is no joke.
Also, there is a tendency of re-valuating business models among large game development companies. Following the latest innovations, they strive to expand into software solutions. It is worth mentioning AR/VR once again here. These technologies dictate the future, and every company is interested in breaking the gaming industry with the new products the gamers have never experienced before. There is no need to say that everyone wants to be a trailblazer.
There is an extremely high concurrency among game developing companies. When you enter this market as a software creator, you need to already have everything on point, from the game concept to a well-organized professional team.
One of the first and the most important stages as preparing for a game development project is choosing a game engine to build the game with. If you pick a game engine that doesn't have features essential for your project idea and doesn't support your needs to the fullest, the time spent working with this engine is simply wasted and you will have to start from scratch. Therefore, it is vital to carefully review information about different game engines, their pros and cons, and what projects they can contribute to the best.
A game engine is a game development framework that allows programmers to build the core functionality of the game, including the main structure and essential features. For example. game engines can help with rendering 2D or 3D graphics, physical logic, collision detection and handling, sound effects, messaging systems, etc. Of course, there is a number of game engines that offer different features and support different platform, so let's take a closer look at the most popular game engines, their advantages, disadvantages, and applicability:
#1 Unity
Unity video game engine proved to be the most popular game in the world, holding almost a half of market share that covers over 600 million users worldwide. Unity game developers prefer this engines for an ability to develop the whole game at one place. Unity engine is known for its integrated functionality, a wide range of solutions and features available, and quick response time processing. Unity game builder can easily assemble assets and pictures into complex environments and scenes, proceed with visual and audio effects, set lighting, and even create animations in few clicks which really speeds the development process up and helps programmers to concentrate on the project in general instead of spending hours with any other basic engine.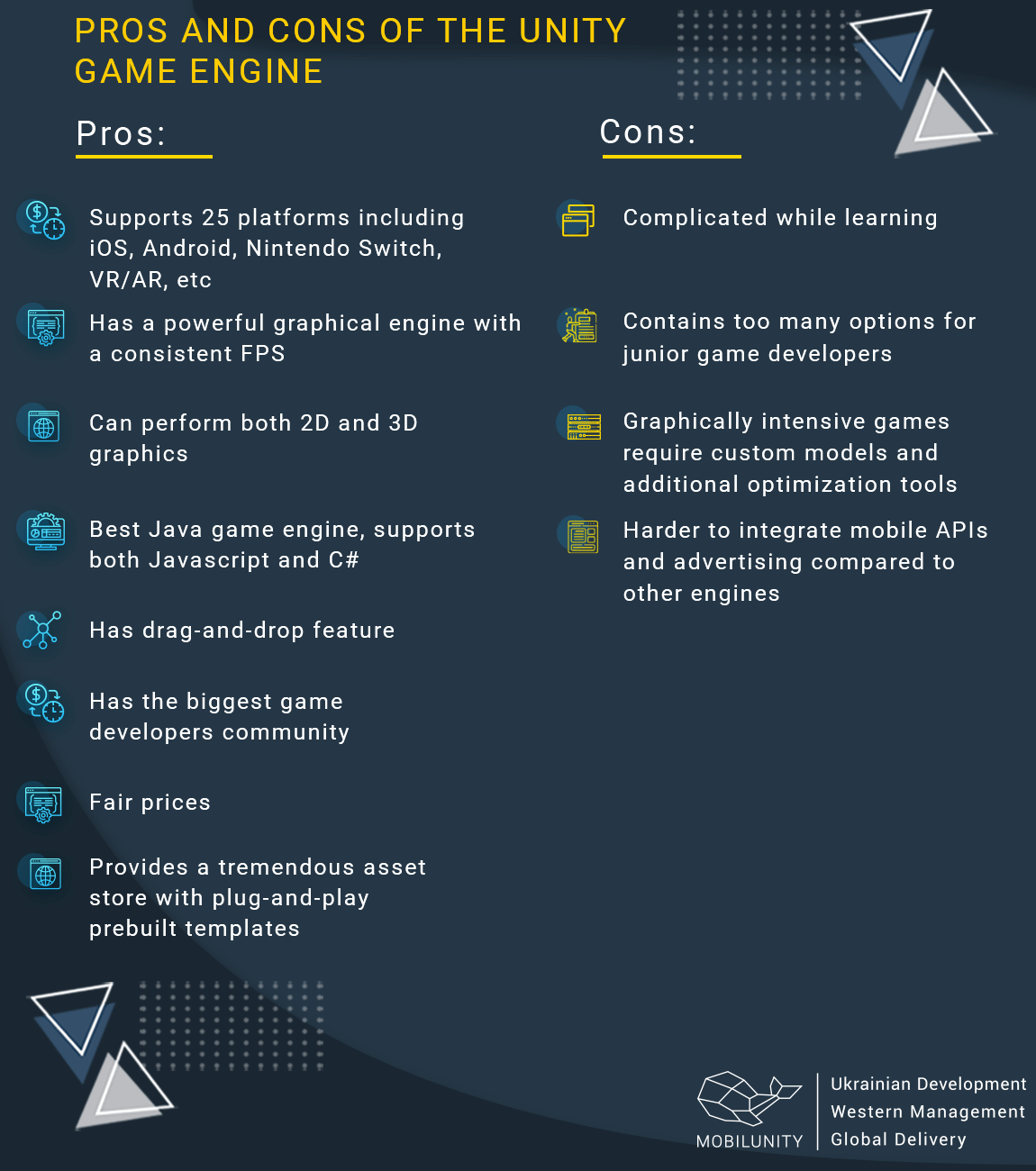 #2 Corona SDK
Corona SDK is an easy-to-use and one of the most reliable 2D game engines for junior specialists interested in developing cross-platform games for iOS, Android, Kindle, etc. This advantage worth highlighting separately: Corona is completely free.

#3 GameMaker Studio
GameMaker is another older game development solution that still has a lot of applicability and recognition among good game engines. With the recent launch of GameMaker Studio 2, this game engine becomes more powerful, quick, and useful. GameMaker can also be used for cross-platform game development, allowing to build a game with a single codebase and that can run natively on different game development platforms.

#4 Unreal
Unreal game engine is the second most popular game engine that is usually used for first-person shooters, MMORPGs, RPGs, fighting games, etc. Unreal game development engine supports cross-platform builds and is compatible with a big number of platforms and devices, making it popular experienced game developers.

Taking the mentioned above into consideration, you need to define your goals and requirements concisely, decide on the platforms you want to target and the ways you plan to monetize your project, the auditory you want to reach and the graphics you see for the game. Then, based on this list of requirements, you can choose the best game engine to fit your wants and needs. And moreover, you can find reliable game coders for hire with relevant experience with a chosen engine.
It is worth noting that Unity seems to support every new console and device that appears on the market, allowing every Unity game developer release games on platforms not accessible for other game engines. Though it is hard to learn how to work with Unity engine, it is worthy.
Corona is a great solution for monetizing iOS and Android products with simple and attractive 2D mobile games. Probably, it is the easiest way to develop a mobile game within the shortest time and with limited resources.
When it comes to powerful graphics, unreal engine game development extinguishes all competitors. Usually, such powerful graphics performance is used within a game development team size of tens of programmers experienced in the field. For small companies interested in releasing on different platform and operative monetizing, Unity game software works best.
What is more, when it comes to VR/AR technology, Unity is the engine that has been supporting AR for a lot longer time than Unreal or any other good game engine did. Although Unreal developers are working on increasing AR support, they still face a lack of documentation and concentrate more on PC/console usage while every Unity game developer has access to the most comprehensive and up-to-date manuals on VR/AR technology. Therefore, Unity engine continues to be the most convenient to use solution for virtual reality game development.
In conclusion, when it comes to defining what is the best game engine, it is hard to pick one universal solution. But in terms of usability, compatibility, and a broad range of features available, Unity game development software holds leading positions. Thus, it is the right time to consider finding Unity game programmer for hire.
Let's take a look at the newest trends in the game development and gamers preferences that were spotted this year.
#1 Cross-platform game development
Cross-platform gaming has been quite popular for a long time, but it reached its fullest in 2019. If previously, there were debates between console and PC users only, this year mobile gamers entered the discussion due to fast-developing technologies and power of trends. It worth noting such games as Fortnite, PUBG, and Elder Scrolls Blades which are spectacular, fun, and cheap compared to the usual gaming setup. Moreover, people carry smartphones everywhere, so it takes a second only to start or continue a game in their spare time. Thus, the more platforms the game is available one, the more popularity and recognition it gets.
#2 AR, or Augmented Reality (Unity and Unreal)
Virtual Reality (VR) technology was expected to be the next leading technology of the 21st century but it still needs to be upgraded a lot to become wide-spread worldwide. One of the main reason why VR didn't rise as expected is expensive VR headsets required for observing the image. However, a similar technology called Augmented Reality or AR played well instead because it requires only a smartphone to have to view AR layer effects. Thus, nowadays, the trend is called VR/AR, although AR gets greater attention due to its better applicability than VR game development. For AR gaming solution, programmers usually use Unity and Unreal engines.
#3 Battle Royale (Unity engine recommended)
The hottest trend of passing year is definitely Epic Games' Fortnite Battle Royale which was released for early access on PC this year. Within the shortest time possible, the number of gamers entered Battle Royale reached 125 million users which is a tremendous number. Moreover, since the game gained so much attention and a massive appreciation in a global gaming community, it continues developing rapidly and Battle Royal Mode even promised to be included in the upcoming Call of Duty 4.
#4 Diversity (Unity and Unreal engines recommended)
This year can be named a year of diversity and tolerance. The game industry has grown a lot, and now there more female characters being main heroes (Control, Shadow of the Tomb Raider, Gears of War 5), more people with different skin color, appearance, and logic. Game developers are dedicated to creating as many different, yet recognizable characters as possible to meet preferences of every single gamer.

Origins of Game Development: Who are Unity Game Developers?
Though the current generation has got used to video games, online strategies, powerful 3D graphics, and more advanced technologies, the game development began not so long ago comparing to the passing 2019th year. The first who launched arcade games were well-known Sega and Taito that released electro-mechanical games at the end of the 60s and, thus, started what we now call a game development industry.
Multiplayer mode appeared in the 70s thanks to the US restaurants who installed computers to attract more visitors. Gaming was gaining popularity and it was the competition factor that motivates a big number of gamers to play. With a help of the PLATO network, game developers of those times developer a technology that allowed multiple players to compete on separate screens playing one game, usually strategic electronic one.
This comprehensive source proves that the 1995th became a very start of 3D game development, once Sega launched its Saturn System product with new computer technology and CDs instead of cartridges. A few years later, Sega launched Dreamcast, a first Visual Memory Unit (VMU) that contributed to evolution the game development and changed the way games were played. Microsoft, inspired by the idea that console's memory card could perform the role of the mini console itself, revealed Xbox SmartGlass shortly.
If today a touch-gesture technology and touch-screen gaming should surprise no one, this innovative approach became available in 2004 only and continues till nowadays with a lot of new technological features added. You can check more information about the touch-gesture technology in this article. In response, the Nintendo offered gamers brand new built-in touch screens and stylus same year.
Before 2017, gaming was a community-based pastime rather than mainstream entertainment. But after Apple's App Store was launched in 2008, according to AppleInsider information, a lot of people discovered the gaming industry and, thus, the gaming gained the next evolution. Innovative mobile games quickly became an essential part of daily life and moved a well-established console market aside for a while. When people become used to mobile games, both console- and mobile-based games occupied their niches. It was a time when such companies as Apple and Google build brand names in mobile game development and simply monopolized the recently born market.
Nowadays, people still enjoy playing mobile games on their personal devices because companies tirelessly produce more and more games to attract and entertain users. No wonder that there is much competition both in technical and creative aspects. For example, a simple well-known game "Angry Birds" gained tremendous popularity among mobile gamers, being downloaded 2 billion times in 2012 and bringing creators $200 million in revenue, stated Rovio report. The next game that captivated gamers' minds was "Pokemon Go" that offered a brand new approach to gaming in combination with reality by incorporating Augmented Reality (AR) into game structure. The most popular mobile game of the passing year is "Clash of Clans" that allows multiplayer mode and connects millions of gamers around the world. Though video games remain the most popular games, mobile gaming development is developing rapidly as well.
According to the statistics from the 2019 Games Developers' Conference, game programmers voted for the best game development platform to build games for:
PC and Mac: 53%
Smartphones and Tablets: 38%
PS4/PRO: 27%
VR Headsets: 24%
Xbox One/Scorpio: 22%
Web Browse: 13%
Linux: 7%
AR Headsets: 5%
Apple TV: 4%
Nintendo Switch: 3%
Moreover, based on gaming revenues (provided in billions) analyzed by Newzoo source, here are the top 5 video game companies by December 2019:
Chinese Tencent Holdings Limited is one of the world's largest technology corporations specialized in video games, cross-platform applications, and Internet-related services. Among well-known and highly popular Tencent Games are Call of Duty, League of Legends, and Fortnite.
Sony Interactive Entertainment Inc (SIE) is a world-famous company producing video games for PlayStation systems. Just a small note: the number of sold PlayStation systems reached 500 million last year. What is more, there are 750+ video games for PlayStation launched since 1994.
Apple (Mac) is one of the oldest players on the video gaming area, and Apple iOS is well-known for exclusive games with remarkable graphics. Moreover, recently Apple launched Apple Arcade – the first ever game subscription which unites desktop, mobile, and living room devices.
Microsoft with Xbox is Sony's main competitors. Last year, Microsoft invested a lot is video gaming streaming services, thereby strengthening its position in the market.
Activision Blizzard proved to be the largest game company in the US and Europe. With a number of gaming units and additional studios working under Activision Blizzard, the company launched such famous games as World of Warcraft, Diablo, and mobile Candy Crush Saga. Nowadays, Activision Blizzard is putting emphasis on perspective VR and AR technologies.
In case the name of the leading Chinese company is not familiar to you, you definitely know such popular e-sport video game "League of Legends" and mobile games such as "Arena of Valors," "Clash of Clans," and "PUBG Mobile." Moreover, Tencent company has a 40% stake in Epic Games company that produces "Fortnite" and a smaller stake in the mentioned above Activision Blizzard, according to this detailed Newzoo statistics analysis. Tencent has 15% of global market revenue and has been selected No.1 gaming company in the world five years in a row. Moreover, the top 5 gaming companies haven't changed since 2016. In conclusion, it is worth saying that the top 25 companies analyzed by the source capture 77% of the global games market and gained $121.7 billion in 2017.
This analysis also covered mobile game development mentioning that half of the top 25 companies gain revenues through mobile gaming distribution. Last year, both Apple and Google broke their own records in terms of mobile games revenues. On the global console marker, Sony, Microsoft, and Nintendo tend to lead over other companies and cover 57% of all console games revenues in 2017. Nintendo is known got its growing up by 98% revenues yearly.
The Roles of AI and VR for Unity Game Developer to Note
Let's talk about the roles of VR/AR and AI technology in the game development industry, current situation, and forecasts. For the last few years, Virtual Reality (VR) technology was predicted to become the next greatest market trend; however, VR didn't perform that much, although being quite promising. Again, costs matter: to view VR image, users have to buy pricey VR headsets that still lack many functions and being constantly upgraded. But it is worth mentioning another technology that proved to be more favorable. Augmented Reality or AR is easier to adopt because instead of additional devices, AR can be processed with the use of a smartphone.
The biggest game development companies have already revealed their interest in AR technology and some of them have already launched successful mobile games. Everyone knows the biggest AR game hit by this time – Pokemon Go, and it is only a start. Naming other popular AR games, we may note The Machines, AR Zombie, AR Dragon, etc. Thus, AR technology brought new challenges and opportunities for game developers and all people working on game creation. Programmers assume AR to be one of the biggest trends next year as the gaming mobile market continues to expand rapidly.
Artificial intelligence, or AI, has a huge potential to lead the market trends next year as well. AI offers absolutely unique features allowing developers to build a structure of the game and character behaviors the most real-like. With a personal approach to every gamer, allowing him to manage game settings intuitively to adjust them to his needs, game developers create a new type of games and carefully analyze feedbacks at the same time. AI become a vital part of a well-developed game, and for next years, the technology will become even more incorporated into the gaming environment. Moreover, game theory can contribute to AI development in return by helping researchers to analyze AI logic by inserting it in a game.
In reply to the mentioned above promising recent technologies, it is essential to highlight the benefits and differences in 2D vs 3D development. Previously, 2D was all that game programmers, but with the creation of the 3D image, the gaming scene has changed significantly. There are numbers of debates between 2D and 3D fans, but if take a deeper look at 2D and 3D game development, both performances can offer a lot of benefits to meet your needs.
Here is a list of 2D gaming useful features for you to consider:
basic controls that operate better
The controls of 2D game development are much simpler than in 3D creation. By knowing several basic commands only, it is already possible to build a game. Thus, it is highly popular among junior game developers.
Following the previous point, 2D games can be developed easier, faster, and cheaper. 2D game development software has simple software that allows to release a game shortly and add extra levels without problems in the shortest time as well.
no development strategy needed
As 2D games don't require much time for development and don't need a huge experience to work on, there are no long-term planned actions needed.
Majority of 2D games have simple instruction and one defined goal at the end of the level/game. Users need to overcome several obstacles, sometimes fight enemies with one attack, or collect coins on the go, and reach the end of the level.
And now, here are the advantages of 3D game development comparing to 2D performance:
The main advantage of 3D games is the realistic graphics. The games are developed close to real life to make the users believe that the game is real indeed.
higher quality of the image
Of course, with the realistic images goes a better quality of the gaming environment. Nowadays, developers create such appealing, pleasant, and captivating graphics that gamers can spend hours playing the games just because of the visual effects used.
Great graphics motivate users not only to complete tasks but enjoy playing moments. What is more, some 3D games have a huge location map with some bonuses saved in hidden places. This way, creators provoke gamers to explore the whole location that has been carefully planned.
applicable to different genres
In contrast to 2D games that usually have the only one way of playing and achieving levels, 3D games offer a wide diversity of game genres, and it allows game programmers to make each game unique and memorable.
It worth saying that both 2D or 3D games have own atmosphere and admirers, although they differ a lot. Still, there are a huge number of gamers enjoying playing 2D games and having the greatest rest with them. Both 2D and 3D game development is not just about entertainment anymore, but they became a form of digital art.
What Game Development Team Size Will Work Best for You?
Nowadays, there are more than 2.5 billion video gamers from all over the world and most of them live in China (32,536), the US (25,426), Japan (14,048), Germany (4,430), United Kingdom (4,238), South Korea (4,203), France (2,977), Canada (1,968), Spain (1,918), Italy (1,881), Russia (1,531), Brazil (1,324) and Australia (1,242), according to this detailed statistics. No wonder that most of the game developers leave in the same countries where gaming is highly popular, starting from Fortnite and League of Legends and followed by game-based movies like Tomb Raider and a rapidly growing mobile games segment.
After analyzing average Internet speeds and consumed traffic, numbers of video game companies and Internet locations per capita, CenturyLink made a list of the most game-friendly cities both for gamers and game programmers.
Seongnam-si, South Korea
Los Angeles, United States
Seattle, United States
Seoul, South Korea
Malmö, Sweden
Stockholm, Sweden
Zürich, Switzerland
Cologne, Germany
Tokyo, Japan
London, England
Most of the game developers that live in the cities mentioned above tend to work in big groups and solid companies. Nevertheless, there are many developers interested in remote game development jobs, and what is more, there are numbers of highly qualified and experienced game programmers who live in different countries all over the globe and they are interested in remote job offers to contribute to interesting and perspective projects staying at home with their families and friends. Therefore, game development outsourcing creates a win-win situation both for employers and employees. It is possible to define game development team roles in a remote team without problems if you hire Unity programmer initially. Here is a helpful checklist of skills, experience, and knowledge required from a game developer working remotely in 2019:
These skills are especially valued among remote workers and remote teams because both the speed and the quality of the product depend on the cooperation and understanding within the team.
Knowledge of Game Genres and Trends
The best developer is the most experienced one who used to keep his eye on the latest updates in the game development industry. Also, there are established genres such as first-person shooters, side scrollers, puzzle games, etc. For one person it is not possible to be an expert in all genres. Therefore, usually, game programmers choose one or two genres only and grow in these fields.
Knowledge of Game Engines
As mentioned before, the most popular 3D game development software is Unity followed by Unreal. These two engines form a basis for game programmers and usually, one of them is used for the whole cycle of the game development. Such service as Xenko game engine is also still in use but this year its creators from Silicon Studio stopped supporting this engine.
Knowledge of scripting languages
A scripting language is a simplified version of a programming language that is widely used in game development. For example, Ruby on Rails game development requires Python and JavaScript knowledge. Golang game programming is usually used by developers experiences with C+/C++. However, Golang game engine is not widely used due to its slow processing speed.
A game development cycle is the same in general, but in each project that the game developer works on the roles within the team should be defined and followed. Thus, every person knows his duties and who performs one task or another.
Passion for game development
Of course, no video game programmer will become highly qualified and experienced if he is not interested in and passionate for game development. Therefore, you should find a person with flashing eyes looking forward to creating a captivating game.
Self-motivation and proactivity
For remote workers, the self-motivation is essential. Otherwise, they will not be productive enough to perform their task. Moreover, they will not take the initiative and suggest helpful improvements, so their overall contribution to the project will be pretty low. To avoid such situations, please have a long conversation with the person you are going to hire to understand his position and life principles that usually apply to work approaches as well.
Agility and creativity in game concepts
The main difference between business needs and gaming preferences is that the game should be fun and captivating. Otherwise, no one will play it, especially for a long time. Thus, top mobile game developers put their efforts not only in technical aspects but in entertaining and educating traits of the game as well. The most common way to understand the needs of gamers is to provide a group of them with so-called prototypes of the game and gather feedback to improve/change/delete a particular part of the game.
What is more, you need to determine the required skills and qualifications for every team member you are planning to hire. In case you need a developer with more skills, like Spark developer, Mobilunity will assist you with hiring. Here you can find examples of requirements for junior, middle, and senior game developers that can help you to compose a strong job offer and find a specialist exactly for your needs.
Basic requirements for Junior game developer:
Basic requirements for Middle game developer:
Basic requirements for Senior game developer:
Feel free to use these tips when composing a job offer to hire a game developer with knowledge and experience needed. If you are considering between in-house, freelance, or remote game programmer for hire, take a look at the next paragraph. Depending on your needs and requirements, you can find the right person and expert. Practice showed that more and more companies, both corporations and small startups, are interested in outsourcing game development. Let's analyze if it is worth counting on game development outsourcing.
Hiring a Game Developer to Work Remotely: Difference between Freelance and Remote Game Developers
It shouldn't come as a surprise that programming is a leading field of remotely working specialists. Though a game development cycle requires a lot of teamwork and fast communication between the programmers, it is real for the whole development team to work remotely and provide amazing results.
It is worth noting that many popular video game companies prefer their developers to work in office primarily because of privacy concerns: they want to keep the information about the working process and the upcoming releases as confidential as possible. Thus, game development teams use their office computers and software only and they are not allowed to take any part of the work home. However, nowadays we can observe a tendency towards game outsourcing. Remote-working studios, freelance coders, outsourced development – all these options gain popularity among the game development Unity community. It is true that working from home or from a remote location (another city or country) requires strong time-management, substantive, and technical skills from each member of such team and it is not a commonly used solution for game development, but it has a lot of good points to consider.
Not all the people understand differences between specialists working remotely and freelance experts. Remote and freelance positions have a lot in common; however, there are some important differences between these positions. Both employers and employees struggle deciding which type of working schedule can meet their needs and expectations the most, confusing remote with freelance job offers. Let's take a look at similarities and distinctive features of each type of these positions.
The location of the working place, the appearance of the worker, his preferences and hobbies don't matter for either of these options. The skills and experience, the desire and ability to perform greatly within the deadlines, and the availability of a functional computer and other equipment to complete the tasks are the most important factors for programmers working remotely and on a freelance basis as well. Although a person works outside the office, all other features such as working hours (strict or flexible), deadlines, online meeting conversations, delegated responsibilities stay the same. Additionally, a remotely working or freelance game developer can arrange his working place and manage his time and tasks as he wants. But there are slight differences between freelancers and remote coders:
Bilateral contracts and obligations
Fully remote work is a home-based job position offered by a company or an organization that also requires the employee to be available online for team discussions, updates, and reviews. Such common communication channels as Slack, Skype, Hangouts and time-tracking software as Time Doctor help remote workers to prove their presence and contribution to the teamwork results. Just like any employee, remote game developers need to complete their tasks in order to keep pace with the team, they have certain long-term responsibilities.
Freelance game developers, on the other hand, are mostly not bounded with contracts and obligations. Usually, freelance tasks are result-oriented and freelance programmers can arrange their schedule and activities more freely compared to remote workers. Moreover, autonomy in decision making and development process is welcomed among employers, it is the completed task within the given period of time that matters the most. Once the assignment is finished, the freelancer can move to the next project; what is more, programmers can work on different projects for different companies at the same time without problems.
Complicated selection process
Most freelance-working game developers find projects to work on using such online platforms as Freelancer and Upwork where hundreds of specialists can apply on one task. Then, the client chooses the person who will work on the project and usually, the lowest bid wins the experience. Therefore, it is hard to get hired in such conquering environment for a programmer with a middle level of game development services knowledge and experience.
When it comes to hiring a game developer to work remotely, companies and organizations approach the hiring process more deliberately. They consider the vital skills of potential candidates, their previous experience in the field, portfolio, feedbacks regarding the working process, and only after several selection stages they decide to hire game developers that passed all tests successfully and proactively. The selection process can be held in several phases, with a test task given and a one-to-one interview. In result, the company or the organization usually hires the person that meets their needs and requirements the most, while on the freelance market the selection process has a lot in common with a lottery.
The work of a freelance game programmer is followed by uncertainty because they need to find clients each time they look for the next project to complete. Thus, the source of income is not stable and depends both on luck and professionalism of the game developer. By contrast, remote job position provides more guarantees and a stable income, so it is more secure and less stressful for workers.
In conclusion, we may say that there is a fine line between remote and freelance positions, and it is up to you to decide what type of cooperation you would like to have with game developers. While freelance game developers tend to change projects often and usually don't have long-term obligations, being able to contribute to different types of game development tasks and gain experience with the most popular game development software. Most of the companies tend to hire game programmers to work remotely on a long-term basis to be fully involved in technical and creative aspects of the process, but it is a common case when a freelance job offer turns into a full-time remote position when a programmer successfully helps the client with several tasks in a row.
Looking for Game Programmers: Outsourcing Vs. Nearshoring Options
If you decide on looking for game developers to work remotely on your project, you may face a few additional concerns. Besides outsourcing, there are some other hiring options available for companies and project owners. For example, you may often see the term "nearshoring" when looking for game designer. Is it a synonym to "outsourcing" or what is the difference between these approaches?
As you have probably guessed, "nearshoring" appeared as a result of a combination of "near" and "shore," meaning having someone working near you. Basically, nearshoring is the way of outsourcing specialists from one of the countries wich borders directly your location. The game development cost estimation usually stays the same, but with nearshoring, you avoid such annoying little things as time differences, language, and cultural barriers, etc. Other times, you can reduce the game development cost as well.
As the cost of game development, in part, differs based on the location of workers, it is important to understand the rates in different countries. It may appear that the cost of the remotely-working development team from a nearshore country is twice higher or twice lower than in your country. Or you can find out that working with such countries as Ukraine is four times beneficial than hiring coders from Canada.
The qualifications and experience of programmers can be on the same level, but the cost can vary a lot. This one of the biggest advantages of outsourcing a professional development team from any place in the world. So, to be informed is to be prepared, so let's take a look at the current situation on the outsourcing game development market.
Interview Questions to Ask a Machine Learning Developer?
An interview with a candidate for a development position is a key component of the search for the right employee. The success of the project depends on it. To find a game developer for hire it is necessary to ask not only basic technical questions, but also other questions that will determine his interest in the work. All game programmers for hire should not only understand the technical part of the work, but also its very essence. In this way one needs to ask the right questions not only about the job, but also about the personality of the developer – he or she is not just a tool to create a project, but a full-fledged member of the team with his or her own views, interests and abilities.
What is the role of the game developer?
This simple question plays a key role, because it may well be that the job candidate does not understand the job. Even if the developer has a high level of ability and skills, he can ruin a project if he simply doesn't understand his job and his tasks. It is therefore an issue that needs to be clarified and regulated immediately.
Which project of his is he most proud of and why?
Before the company decides to hire game designer, it needs to determine what projects he has worked on before. And it's not enough just to give the name of the project – the company needs a full-fledged feedback, in which the candidate will describe in detail his most successful project, ​​assess the effort and expectations he ahs for the project, and the reasons why he considers it to be such.
Which project of his is he dissatisfied with?
By asking this question, the company will be able to determine whether the developer is subject to self-criticism and how much. Too strong self-criticism is no better than lack of it per se, because the employee will not be able to adequately assess his abilities, which in turn will lead to deterioration. In addition, he must be prepared to take responsibility for his mistakes. The best option is a developer who has a sound understanding of what his faults are and admits it.
What are his most challenging issues in developing?
This question will not only provide information about technical problems or challenges, but also about social ones. For example, one person may not be able to manage a line of code, while another may not be able to work with a team. This is an important nuance if a company wants to hire a game development team in which everyone has to work together.
What is his favourite game?
This question seems unrelated to development, but it is still important because it helps to determine whether a person is interested in working in such a field. If a company wants to hire a game designer, it needs a developer who not only knows how to work with games, but also loves them and can evaluate them from a consumer's point of view.
By asking this question, the interviewer can understand how willing the candidate is to work and what they will do if their motivation decreases. All workers work primarily for their earnings, but it is just as important that the person wants to gain new experiences or simply enjoys the development process itself.
What helps him deal with stress?
Working as a developer is resource-intensive, not only in terms of time or physicaly, but also psychology. It is important to find someone who knows how to cope with overwork, and to plan the day properly to avoid unnecessary overwork, because the more one overworks, the faster one burns out and loses interest in the job.
What type of games does he prefer?
Games can differ not only in genre and style, but also in the platform for which they are created. The logical conclusion is that the developer's favourite platform is the one of most interest. For example, before one will hire mobile game developers it is necessary to find out whether they know anything about such games, what they like and dislike about them.
Of course, there are many more possible questions, but even this list will determine whether a possible candidate is suitable if one needs to hire video game developer. But before one starts the interview it is also necessary to find a possible future developer. If a company is going to hire a video game developer, the best option would be to contact such service providers such as Mobileunity beforehand. The company will not only help find video game programmers for hire, but also take into account all the requirements of the client to the smallest nuances and help with plan implementation.
Finding a Game Programmer for Hire Remotely: Comparing Salaries and Experience
Once you decide to find an experienced game developer to work for your company remotely, you need to evaluate all the pros and cons of hiring a person from a particular country. Based on the information about game developer salaries in the 10 most popular countries to hire a highly qualified remote specialist, you can find out average annual senior game programmers salaries of developers from the following countries:
The US – $119,126
The UK – $59,523
Canada – $63,546
France – $61,459
Germany – $41,794
South Korea – $39,366
Japan – $107,899
Italy –$34,167
Spain – $42,712
Ukraine – $31,200*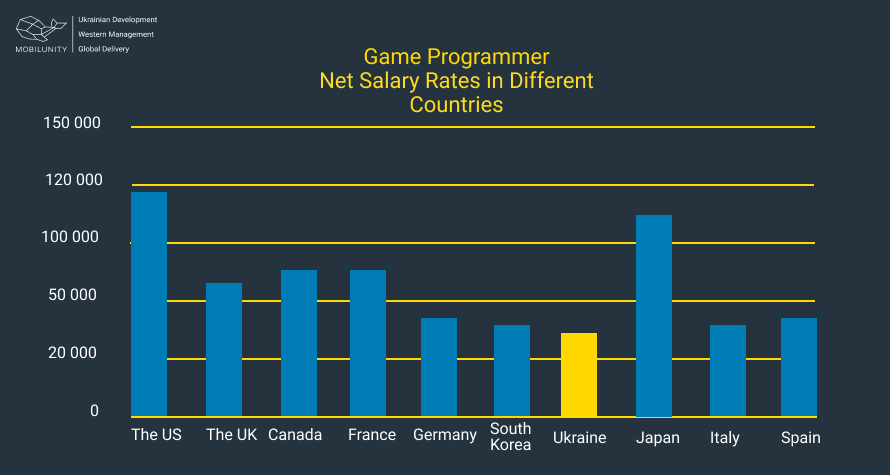 * Ukrainian salaries are provided based on Mobilunity's Recruitment Team research on the local job markets. All salaries are net and do not include the service fee (in case of hiring on a dedicated team model). The salaries are provided for comparison purposes and could be not entirely accurate. Contact us to know the exact cost of hiring a developer corresponding to the required parameters.
As you can see, the United States, the United Kingdom, and Canada are used to offer the highest payments to developers. At the same time, it is vital to mention that the difference in salaries in these is not due to lack of experience or knowledge and game developer pay rates depend also on the currency rates in a particular country. Therefore, by hiring a game programmer from developing countries such as Ukraine you can get a remarkable expert in game development with a huge experience for affordable rates.
A detailed analysis of hourly rates of junior, middle, and senior game developers living in the US, the UK, Canada, France, Germany, South Korea, Japan, Italy, Spain, and Ukraine based on information from the Payscale research center was put in the following comparison table:
| | | | |
| --- | --- | --- | --- |
| Country | Junior Game Developer, $ per hour | Middle Game Developer, $ per hour | Senior Game Developer, $ per hour |
| The US | 43 | 52 | 61 |
| The UK | 23 | 28 | 33 |
| Canada | 22 | 27 | 30 |
| France | 19 | 24 | 27 |
| Germany | 17 | 20 | 23 |
| South Korea | 14 | 18 | 21 |
| Japan | 14 | 15 | 17 |
| Italy | 10 | 13 | 16 |
| Spain | 10 | 13 | 15 |
| Ukraine | 8 | 11 | 13 |
As can be seen from the table, Ukrainian game developers have the lowest rates when it comes for hiring a freelance or remote game development specialist. At the same time, Ukrainian developers are known and valued worldwide regardless game development team size they work with. Thus, it is worth considering hiring game developers from Ukraine to contribute to your project.
Can Mobilunity Help You with Game Development?
As you can see, the game development industry has a lot of specifics you should know before you start your project. Of course, it is impossible to know and predict all the things that may come at the planning stage, prototype development, testing, and the final product launch. Therefore, it is important to gather a team of experts, each one in its field, to allow for the smooth development and organizational processes.
By hiring an experienced, renowned software development company with a strong portfolio of launched products, you can be sure of getting the best quality and the most dedicated specialists. And by working with a remote highly-qualified development team or IT contractors, you can get the greatest value of your money. Is there a reliable outsourcing company that specializes in game development services?
Mobilunity is the most experienced and profound company among video game outsourcing companies that can provide exceptional assistance in game development at any stage of your project. Starting game creation from scratch or joining at a particular stage of development, the dedicated Mobilunity expert team can help you complete your project shortly and of great quality. In need of Unity game developers to work on your idea or project? Want helpful assistance with building a video game and need advice on software development?
Feel free to ask Mobilunity and get a professional game development team eager to help!