How Much Does It Cost to Hire an HTML Developer in Ukraine?
You can imagine HTML web programming as a backbone of all the web content. HTML stands for Hypertext Markup Language and is the standard markup language used to create and structure web pages. It was created in 1990, by Tim Berners-Lee, with the latest version being HTML 5. The way webpages work is that a browser uses the HTML tags in the code to read the content of a page and display it for users with the help of HTML CSS developers. Because HTML has a basic concept behind it, building webpages can be either simple or complex depending on what the developer wants it to be. It could be as simple as a "Hello World!" with a blank background, or as complex as a fully responsive online management information system.
Why HTML Web Programming Is so Important in Web Development
There is a thought, that a professional HTML5 programmer should know 3 coding languages to create outstanding sites and apps: HTML, CSS, and JavaScript; but the core is still in the first one. HTML builds structure and relations between the components within one site and allows to build links to other pages and sites.
While CSS is responsible for the view of the content, and JavaScript for its "behavior", HTML is the content itself. HTML developer uses tags to mark up the content, answering two main questions: "what is it?" and "how it is related to other content?".
Coders appreciate this programming language because it is simple to learn and adapt. Even if you hadn't work in it before, it will not take much time to learn the basics. And for browsers, it is easy to display pages, written in this language. The interest of the coders to this language stays high over time.
Elder Brother or Ancestor: What Is the Difference Between HTML and HTML5
HTML5 is the latest version of the programming language, uniting 3 kinds of code: HTML, CSS, and JavaScript. With it, coders write almost anything you want to have on the web page without the additional software like browser plugins. HTML coders for hire are needed in any business, which wants to communicate with the customers through the internet.
HTML and HTML5 differences are noticeable. Complicated browser applications are not a problem for this coding language. Even those showing geolocation of the user or working offline. What can you add to your project?
animation
music
movies (including high-definition)
So, what is the difference between HTML and HTML5 in particular? Let's check the facts.
| | |
| --- | --- |
| HTML | HTML5 |
| Using of the vector graphics is possible only with outer technologies like Flash, Silver-light, VML. | Supports SVG, canvas and other virtual vector graphics. |
| Temporary stores data in browser cash. | Web SQL databases and application cash are used to store temporary data. |
| Runs JavaScript in the browser interface thread; doesn't allow to run it within a web browser. | Provides full support for JS to run in the background. |
| Based on SGML. | Is not based on SGML. It improves parsing rules and enhances compatibility. |
| Cannot use MathML and SVG in a text. | Inline MathML and SVG can be added to the text. |
| Usage of the following tags: big, center, font, basefont, isindex, frame, noframes, acronym, applet and others. | These elements are considered to be deprecated and dropped. |
As a language for cross-platform applications, HTML has broad opportunities. With it, you will get an app for PC, tablet, phone, and different appliances. What is the difference between HTML and HTML5? The "younger" version helps to create more attractive and functional applications and sites. It has more options and fewer bugs. And if you would like to see some examples – HTML5 Demos are for you.
HTML Developer Salary From Different Points of the World
If you are looking for HTML coders for hire, your first questions might be about the skills of your future developer and cost you should pay. Fortunately, web development is a field, where outstaffing is extremely popular. So, you can compare and choose the most cost-effective option.
Google Trends data on Worldwide Google Search Trends for HTML
Web design is a booming industry, and the demand for skilled front-end developers is constantly growing, as well as the costs of hiring them. Here you will find HTML5 developer salary per year from various locations:
In the United Kingdom, the standard HTML coder earns from £37 500 to £62 500. The median is £47 500, what is about $62 429. HTML5 developer earns £50 000 ($65 714) averagely.
For the United States of America, PayScale shows median $61 000. Washington (Columbia), New York, Phoenix, Dallas, and Boston are the cities with the biggest amount of the devs, HTML development cost here is the highest. Those who work with the latest version of the language make about $75 500 per year – claims Glassdoor.
The average salary for devs, writing in this language in Canada is C$51 073, what is about $38 830. HTML coder hourly rate in this country is C$20,34. For the latest version payment is higher: C$74 091 or $56 325 per year.
The average HTML developer salary in Israel is ILS184 315, or $50 310, according to the latest statistics from the Glassdoor.
In Ukraine HTML5 developer earns $22 800 on average – it is about $9 per hour. Maximal salary of the senior specialist reaches $40 000, according to the statistics.
HTML coder needed? From the numbers listed, you can compare the cost that you would need to hire a programmer, able to design site or web application remotely. In this case, Ukraine is a practical and cost-effective option. The average HTML developer salary of the Ukrainian professional is about $670 per month, but it can differ depending on the complexity of the project and individual skills and experience of the performer.
HTML Web Programming: Secrets of the Outstanding Result
The skills and knowledge of the HTML programmer establish the quality of the future website. One of the most important skills here is the ability to expand and build something impressive from the basics.
The modern world expects a website to be interactive, responsive and mobile – even the simplest functions have grown into responsive spaces. A professional frontend developer should be an expert in HTML, CSS, and JavaScript, but there is something more in the technologies, needed to build an ideal website.
Frameworks for JavaScript
JS frameworks are one of the most effective tools for a coder. Libraries, APIs and plugins also appear to help the HTML developer to complete a task quicker. In fact, a framework is a code with a certain structure and a library of the ready elements, which you use to create a new product. For JS popular frameworks are ReactJS and NodeJS.
Frontend Frameworks for the HTML5 Developer
Frontend frameworks also support the coder with ready builtin structures, libraries, preidentified attributes, and tags in order to make the HTML app development process easier and faster.
An easy-to-use and intuitive interface are attractive for the visitor. Frontend framework helps to organize it easier and make it more mobile. It also helps to hide integration of JavaScript elements in the code. It is also a tool, able to customize the interface and create "the atmosphere" on the webpage. Structure and preidentified elements and functions are for you to use.
Web APIs
Web Application Programming Interface, or simply API, is helpful in a wide range of tasks. It is often used to integrate the certain type of the content into the page and manipulate it. The coder will use it to add audio and video files, 2D or 3D graphics.
Multimedia for Your Page
The professional coder can integrate almost any type of content you need into a page of your website and even mix these media:
images
graphics
audio
video
If you need to add graphics – SVG, or Scalable Vector Graphics, are for you to make it. And with the latest version of HTML and frameworks, it is possible to record, playback and process video and audio files online.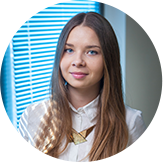 HTML&CSS developers are not that rare. There are many HTML&CSS developers around the world, thus it is not a problem for clients to find them locally. Mostly, clients are looking for more experienced developers with the skill set, which includes HTML&CSS knowledge.
Kseniya,
Business Development Associate
HTML Developer Resume: How It Should Look Like
Almost every day more technologies are being invented to create attractive and responsive websites, but still, it is impossible to reach a good outcome without the skilled HTML5 developers. Combination of HTML, CSS, and JavaScript, accompanied by other necessary tools helps to write attractive and functional product.
If you are not an expert in coding and web technologies, but still need to hire HTML developer, check the set of skills, which programmers are highly knowledgable about and frequently use. HTML developer salary will also depend on these skills. We can conditionally divide them into two groups:
Frontend skills

HTML5
CSS 3
UI/UX Design tools, like Adobe XD and UXPin
Front-end frameworks, like Bootstrap or Foundations

Backend skills

JavaScript
JavaScript frameworks, like React and NodeJS
JavaScript build tools, like Gulp or Bower
Database management
Looking for the HTML coders for hire? A resume is one of the first methods to find an appropriate performer for the project. Pick a candidate you like most of all and appoint an interview. A personal (or, at least, Skype) meeting will significantly add to the complete picture of the developer. And the example of HTML developers resume will be a small "cheat sheet" for you.
Junior HTML5 Developer Resume Example
Skills and competencies:
experience in developing web applications
deep knowledge of HTML\HTML5, C#, SQL
knowledge of Photoshop, Fireworks, Flash, Dreamweaver
familiarity with commercial web development and release methods
ability to code cross-platform applications
designing, developing and integrating web applications
Professional experience:
development of the web pages according to design specifications
integration of new features to the existing web apps
maintaining the templates and Content Management Systems
assistant work in testing and deploying of the applications
registration of the ready websites in the search engines
updating the content for the existing site
Senior HTML5 Web Developer CV Sample
Technical skills:
HTML5, CSS 3, JavaScript, Angular JS, jQuery, LESS, AJAX
design of the databases with PL\SQL and SQL queries
Jinja, Freemarker
scripting for Linux OS
knowledge of programming languages: Python, PHP, Java
knowledge of RIA frameworks and JavaScript libraries (Angular JS, Bootstrap, GWT, JQuery, JQuery UI, Node.js)
Additional personal skills:
ability to solve problems
excellent written and oral communication skills
Experience:
designing of the applications using HTML5, CSS 3, JS, Angular JS, AJAX, JSON with the integration of Oracle PL\SQL
being responsible for the development, implementation, and support of the applications
designing logos in Adobe Photoshop
using JavaScript technology and Angular JS for designing ads
coordination with project managers to finalize the design, confirm requirements and make coding more efficient
continued maintenance and bug fixing
training and support of the new employees

How and Where to Hire an HTML Developer
If you are looking for HTML coder, you may have noticed, that people of this profession are not rare. And it is probably not a problem to hire a performer or even a team in your city. However, the location is not the first requirement to the developer. In fact, hiring HTML developer client is looking for more experienced one with the skill set, which includes all the necessary for the project points.
The traditional way to get HTML5 programmers for hire is searching in your region or country. But why should you limit yourself, if the communication means allow concentrating on the most important features?
Outstaffing offers you a much larger pool of the specialists. Receiving HTML developer resume from different parts of the world, you will find the amazing candidates eager to collaborate with you on your project.
The other option is hiring a devoted team of professionals, which will provide you with the full lifecycle development – from the idea to the maintaining of your app. And you can find such teams here. There is no problem to find the professionals in Ukraine, as web design technologies are widespread an frequently used by our specialists. And Mobilunity will find perfect coders to bring your project to life.
According to Google Trends, in the past 12 months alone, India and Pakistan are the countries that have been the most interested in HTML developers.
Google Trends data on Worldwide Google Search Trends for HTML
HTML Coders for Hire in Mobilunity
Hiring remote developers, customers are often afraid that project can turn into a hassle without effort. But with Mobilunity you get highly recommended developers, who fully concentrate on your project and offer a quality product for a price, which will not ruin your budget.
For our clients, we choose HTML programmer, whose skills correspond to the requirements of the project. If you are searching for the reliable partner in web development – request HTML developer resume from us. The pool of Ukrainian experts is waiting for a new challenge!
Looking for HTML coder? Get in touch with us and we will help to hire HTML developers that fit the best for your project!