How Much Does It Cost to Hire an HTML Developer in Ukraine?
HTML stands for Hypertext Markup Language and is the standard markup language used to create and structure web pages. It was created in 1990, by Tim Berners-Lee, with the latest version being HTML 5. The way webpages work is that a browser uses the HTML tags in the code to read the content of a page and display it for users with the help of HTML CSS developers. Because HTML has a basic concept behind it, building webpages can be either simple or complex depending on what the developer wants it to be. It could be as simple as a "Hello World!" with a blank background, or as complex as a fully responsive online management information system.
Tools of the Trade
With more technologies being developed towards building better and more responsive websites, an HTML developer should use their skills in combining HTML, CSS, and JavaScript, together with other necessary tools in order to develop the front-end of responsive and functional web pages. Below are some of the skills and tools that an HTML CSS programmer is highly knowledgeable of and frequently uses:
UI/UX Design tools, like Adobe XD and UXPin
JavaScript framework, like React and NodeJS
JavaScript build tools, like Gulp or Bower
Front-end frameworks, like Bootstrap or Foundations
Below is an example of what an HTML programmer resume could contain: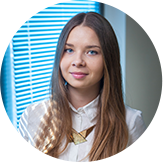 HTML&CSS developers are not that rare. There are many HTML&CSS developers around the world, thus it is not a problem for clients to find them locally. Mostly, clients are looking for more experienced developers with skill set, which includes HTML&CSS knowledge.
Kseniya,
Business Development Associate
Expounding on a Simple Idea
The quality of a website highly depends on the skills and knowledge of its developers. Good frontend developers are experts on the basics of HTML, CSS, and JavaScript, but what makes these developers great is how they can expand and build from these basics. Nowadays, websites are becoming more interactive, mobile, and responsive to its users; basic UI expands to immersive user experience, and simple functions and features have grown into responsive spaces. Below are just some of the technologies that HTML coders can use to build more interactive and responsive websites.
JavaScript Frameworks
Nowadays, building websites include a lot more than just HTML, CSS, and JavaScript, it now uses libraries, plugins, and APIs. JavaScript frameworks are just one of the most helpful tools that can be used. JavaScript frameworks are JavaScript code with predefined structure and libraries that developers can readily use when building websites. Some of the popular JavaScript frameworks are ReactJS and NodeJS.
Frontend Framework
Similar to JavaScript frameworks, frontend frameworks come with built in structures, libraries, as well as predefined attributes and tags to make building webpages easier. Frontend frameworks make organizing your webpages' user interface easier and be more mobile, as well as making JavaScript codes or frameworks integration seamless. Also, because a lot of the structure and function are predefined, frontend frameworks actually make customizing the look and feel of web pages a lot more easier.
Web APIs
Web APIs, or Web Application Programming Interfaces, are used for a lot of tasks, most are for the purpose of integrating and manipulating certain contents into the web pages; like audio, video, 2D or 3D graphics.
Multimedia
With today's technology there are numerous media that can be incorporated into web pages, but the main groups are graphics, audio, video, and the mix of any of them. With graphics you have Scalable Vector Graphics (SVGs) being prominently used. While recording, playback, and manipulation of audio or video content can now be done online.
Increased Interest
Building web sites have been highly in demand that there have been a marked interest in HTML developers.
Google Trends data on Worldwide Google Search Trends for HTML

According to Google Trends, in the past 12 months alone, India and Pakistan are the countries that have been the most interested in HTML developers.
Google Trends data on Worldwide Google Search Trends for HTML
How's and Where's
With the numerous avenues for communication, you can hire HTML developers in many ways, The most traditional of which is to hire locally and in your region or country. But with the ability to communicate worldwide, you can now hire remotely or offsite. Remotely hiring an HTML developer provides you with a much larger pool of highly qualified professional developers that would be amazing candidates to collaborate with you on your development project!
Estimated Costs
Because web development is a booming industry, HTML coders, or front-end developers, are highly demanded. With the rise of demand, the cost of hiring HTML developers or front end developers are highly competitive. Below are the average front end developer or HTML programmer salary from various countries:
From the numbers listed, hiring an HTML programmer from a company able to provide the remote services of HTML developer in Ukraine would be the most cost-efficient and more practical choice. Aside from location, HTML developer salary also vary depending on the number of years of experience that the developer has. The average frontend developer salary in Ukraine is $21,225, but it will be highly dependent on the complexity of the project as well as the amount of experience that the programmer has. According to DOU, cost of HTML developer in Ukraine is $670 per month on average. Junior HTML developer gets $450 and Senior HTML coder makes $1,050 averagely per month.
| | | | |
| --- | --- | --- | --- |
| Number of Years of Experience | Minimum | Middle | Maximum |
| 0-2 years | $300 | $450 | $600 |
| 2-5 years | $500 | $670 | $1,000 |
| 5+ years | $1,050 | $1,050 | $1,050 |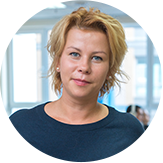 There is no problem in finding good HTML developers in Ukraine, as this technology is already common for all engineers and the amount of developers is large worldwide. Ukraine for sure can offer a vast range of HTML developers of different level and experience and Mobilunity recruitment team will find such a developer in no time for you.
Andriana,
Organization Development Director
Why Hire an HTML Developer?
With remote developer services being a trend, the vast number of possible candidates to hire for your development project becomes more of a hassle and less convenient. With Mobilunity, you can be assured that all our developers have been vetted and are highly recommended. Our company offers quality and dedicated work at an affordable price; we will provide you with the HTML developer that fits the best to collaborate with you in your web development project at a manageable cost. If you are looking for HTML coder or frontend developer  to hire remotely and collaborate with you on building your responsive and mobile website, our company, Mobilunity, can provide you a dedicated and highly skilled HTML developer from our diverse pool of highly experienced professional developers! If you are interested in choosing one for your project, do not hesitate to request html css developer resume from us.
Popularity of Mobilunity
Mobilunity has over 7 years of experience working with different European countries and providing dedicated developers for various projects. We have customers from different corners of the world, for example, Canada, Denmark, Switzerland, Germany, Luxembourg, China and much more. The demand on HTML developers is extremely high and it keeps rising. We have received over 10 requests for providing professional HTML programmers for different types of businesses. Thus, we are always ready to find even more talents for you, besides, the Ukrainian pool of experts allows it to do in almost no time. Don't hesitate and let us know your requirements for your dream project!
If you still have questions, get in touch with us and we will help you find the HTML developer that fits the best for your project!