Online Ecommerce Marketplace Development. Mobilunity Experience
Technologies are very closely connected to our everyday life and it's impossible to imagine the life without them. Either it is medicine, biology, finance, fashion, or agriculture, or any other industry, people try to simplify the work and business operations, make them faster and more effective due to implementation of versatile new and existing technologies. It seems like even elderly people are aware of the new era of technologies development that contribute to our life, work, business.
One of such revolutionary inventions is the development of digital marketplaces that would be impossible without technologies. You just need time and access to Internet to conduct your business, find partners, clients, help like-minded people find each other. 30-something years ago most of us would probably answer, that a marketplace is the place you go for fresh fruits and vegetables to buy from farmers, who grow them. The distinct features of traditional marketplaces were: diversity of products for sale, choice of sellers one could have business with, the ability to bargain and buy the goods for more reasonable price.
What Is a Marketplace? Answer from Marketplace Development Team

What does the same word "marketplace" mean nowadays? Well, since we live in digital era, a marketplace or online e Commerce marketplace moved to cyberspace and is now offering much wider variety of goods than just fresh fruits and vegetables.
The most prominent examples of online marketplace sites of our days are eBay® and Amazon®. To people, who are also in love with handmade products, Etsy® will be #1 website they know. Try asking anyone and most likely these two sites will be named. These are the most known and popular marketplaces, and our Company often receives requests which sound like "create a marketplace like Amazon®" or "develop online marketplace like eBay®" or "build online marketplace like Etsy®".
The difference between marketplaces is not just in the products bought and sold there, but in different business models, different sets of services they offer their merchants and buyers, different market niches they occupy and this is far cry from a comprehensive list.
Definition of the Notions and Terms
Our post includes a number of terms relevant to marketplaces of different types, which may be somewhat unclear, so here are the meanings of the most popular ones.
ECOMMERCE MARKETPLACES – online platforms, which facilitate various financial exchanges (sell, buy, rent out, hire, invest etc.) between the users of these platforms (usually two parties e.g. seller-shopper, host-guest, startup owner-investor etc.) via variety of services (payment processing, escrow, shipping, customer support, user protection services etc.) and charge fees for provided services in return.
B2B MARKETPLACE (BUSINESS-TO-BUSINESS) – a type of marketplace, that facilitates the transaction of products or services between businesses.
C2C MARKETPLACE (CUSTOMER-TO-CUSTOMER, OR CONSUMER-TO-CONSUMER) – a type of marketplace, that facilitates the transaction of products or services between customers (source).
B2C MARKETPLACE (BUSINESS-TO-CUSTOMER) – a type of marketplace, that facilitates the transition of products or services from businesses to customers (source).
PAYMENT INTEGRATION – incorporation of various payment systems (PayPal, Stripe, WePay, 2Checkout etc.) into a marketplace, which enables transaction processing (fee payments, payments for products purchased/services provided, contribution to a fundraising campaign etc.) directly on the platform.
MCOMMERCE (MOBILE COMMERCE) – is the buying and selling of goods and services through wireless handheld devices such as smartphones and tablets. Known as next-generation e-commerce, m-commerce enables users to access the Internet without the need to find a place to plug in (source).
PEER-TO-PEER MARKETPLACES – web marketplaces that bring together users, who offer or are in need of a product/service, bypassing traditional offline services, and offering improved, quicker, cheaper and more convenient alternatives, oftentimes available worldwide.
MEMBERSHIP PLAN – a set of free or paid abilities given to a user of a marketplace, which are determined and specified by certain conditions, usually monthly, annual or listing fees.
AUCTION MARKETPLACE – is a type of marketplace, where auction is the main selling format. That is to say, a seller lists a product and sets a deadline rather than a fixed price, sellers place bids to the item, and at the end of the auction the one with the highest bid gets the item.
CROWDFUNDING PLATFORM – is a type of platform, which allows people to post their projects and raise money for their execution through fundraising campaigns with exact deadlines and financial objectives, when investors buy shares and become co-owners of the venture (equity crowdfunding), or pledge a sum of money and get rewarded upon the completion of the project (reward crowdfunding).
ESCROW – a concept in which a financial asset is paid at first to a third party who takes a guarantee of a safe deal between two other parties (in this case, buyer and seller/employer and freelancer etc.). The funds are held by the escrow agent (in this case, marketplace) until the buyer's approval of obtained products or services (in this case, approval of a buyer satisfied with the product/employer satisfied with the job of freelancer etc.). Money, securities, funds, and other assets can all be held in escrow (source).
Marketplace vs Online Store
When we say "marketplace", we mean online e Commerce marketplace. But what about online stores? What is the difference between them and why online stores lag behind marketplaces to some extent? Below you may find the comparison of a marketplace and an online store to have better understanding on how they differ.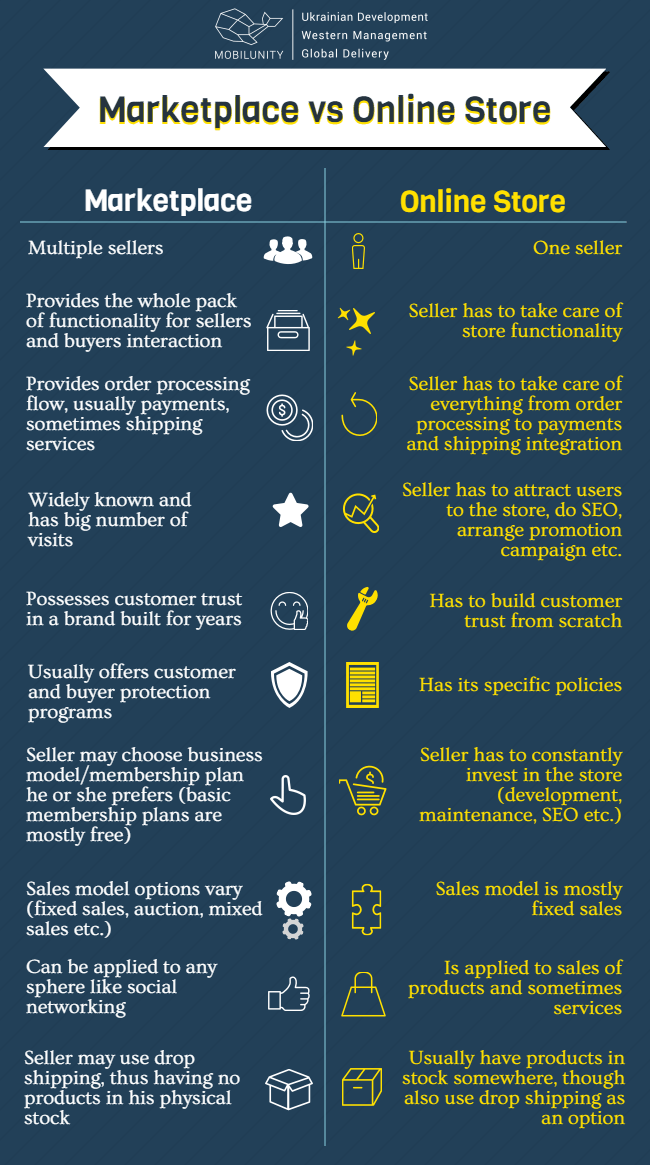 Differences between online marketplace websites and online stores
As far as you can see, the main difference between an online eCommerce marketplace and an online store is the same as in real life. There are lots of different sellers offering their own products (or services) on a marketplace, while in online store there is usually one seller. Even if this seller offers different products starting from wine and ending up with electronics and home appliances produced by different manufacturers, this is still the same seller with the same pricing policy.
eCommerce marketplaces offer sellers a platform equipped with everything needed to run their business. Usually marketplace takes care of orders and payments processing while adding products, setting prices, filling all the necessary details, and shipping is up to sellers.
The benefit of marketplace for buyers is a good chance of finding what they need in one place, probably available from different sellers at possibly different prices, so they may choose the best option. Sellers in their turn do not have to take care of setting up their own online shopping platform, attracting traffic to it, investing into the platform development and maintenance, buying or renting the necessary infrastructure, spending money on SEO, building customer trust and lots of other different tasks that matter.
As for the marketplace itself, it gets the ability to concentrate on the services it provides to sellers and buyers, including customer protection program, flexible payment and shipping services, their own order processing and whatever they think would increase the number of users. However, marketplace always risks its brand, as the buyer, dissatisfied with the purchase, oftentimes blames both the marketplace and the seller he or she actually dealt with.
What Is the Cost of Building a Marketplace vs. Online Store?
If talking about an online store development cost, it will be lower than creating a marketplace. However, by considering the bunch of remarkable features that go with a well-built marketplace, you may decide to build one instead. eCommerce website development cost will be relatively higher as the development process involves a number of functionalities that correspond with each other.
It is a good idea to create an MVP first, a minimum viable product that will have very basic features. This way, you will be able to develop and test your marketplace to see, what needs to be improved or changed. Getting feedback from a group of test users will help you to save a lot of money and efforts. Thus, you will know in what direction to move with your marketplace for sure.
MVP development starts from $10,000, while the first version of the product can cost $50,000+. It all depends on the complexity of the marketplace that you want to develop, and the time frames of the development process. In contrast, online store development can cost you from $2,000. But we have already highlighted how limited such stores are in the functionality. However, if it covers all your needs, you can save pretty much going for the online store.
Types of Marketplaces: Classification

We use the following approach to classification of marketplaces: marketplace is where people sell or buy products or services. We do not consider platforms, where people do not buy or sell products or services, as marketplaces. Thus, we distinguish between:
PRODUCT MARKETPLACES
SERVICE MARKETPLACES
PROJECT MARKETPLACES
HYBRID MARKETPLACES

Product Marketplaces
Marketplaces where people turn to for products to buy are product marketplaces. Clear examples of product marketplaces are well known eBay® and Amazon® where hundreds and thousands of sellers offer their goods to millions of buyers, or a US-based and so far available in US only BriskSale®, a well-known AliExpress® – a Chinese-based online shopping marketplace.
Let us take three most known product marketplaces and compare them on some of major metrics. The three candidates for comparison are Etsy®, Amazon®, and eBay® marketplaces.
Name®
Etsy®
Amazon®
eBay®
Description

Peer-to-peer eCommerce website
Launched in 2005
Headquarters in Brooklyn, NY

eCommerce and cloud computing company
Launched in 1994
Headquarters in Seattle, Washington

eCommerce, company providing c2c and b2c sales through its online auction and shopping website
Launched in 1995
Headquarters in San Jose, CA

Stats

54 m members
25 m shoppers
35 m products for sale

more than 244 m users
54 m prime customers

165 m users
more than 800 m items

Goods for sale

handmade items
vintage goods
craft supplies

digital products
electronic devices
tools & equipment
baby products
beauty products
books
clothing etc.

fashion items
electronics
collectibles & Art
sporting goods etc.

Membership Plans
–
Amazon® Prime:

Free 30-day trial
Free two-day shipping
Access to prime eligible items
No minimum purchase

Stores Subscription Packages:

Free
Basic
Premium
Anchor

Fees

Listing fee of $0.20 USD for each item
Transaction fee of 3.5% of the price for each listing
Payment processing fees
Advertising fees for a promoted listing

Amazon® Prime fee of $10.99/month
Referral fee
Variable closing fee
$0.99 per item fee (waived for sellers, who pay a subscription fee)
Subscription fee of $39.99 a month + additional selling fees

Insertion fee
Final value fee – 10% (max 750$ fee)
Advanced listing upgrade fees
Supplemental service fees

Payment Options

Credit cards
Debit/Bank cards
Etsy® gift cards
Apple Pay
PayPal

PayPal
PayPal Credit
Credit cards
Debit cards
Payment upon pickup

Mobile app
iOS and Android app
Abilities

Social log in
Search options (search for items/shops, search by category/keyword/filter)
Product variations
Create collective store
Shipping estimation
Built-in statistics (track customer experience)
Discounts and coupons
Layered navigation

Browse the product selection
Search options (search by category/keyword/filter)
Create product listing
Recommended items
Make lists (shopping list, wish list etc.)
Promotions and special options for products
Customer service & shipping handled by Amazon®
Amazon® Assistant plugin
Layered navigation

Create product listings
Search options (search by category/keyword/filter, searching for eBay® stores, searching for eBay® members etc)
Buying formats (auction, "Buy It Now", eBay® shopping cart)
Bidding options (incremental, automatic)
Make lists (Watch List, custom lists of items, searches, and sellers)
Buyer protection programs
Fee calculator
Layered navigation

Related Platforms
Etsy® Wholesale – a private marketplace for wholesale
Amazon® Web Services (AWS) – an on-demand computing platform

Shopping.com – a price comparison service

Technologies
CMS – WebsiteBaker,
Frameworks – J2EE,
PHP, Adobe ColdFusion,
Perl, Ruby on Rails,
JS Libraries –
Facebook SDK, JQuery,
RequireJS, Boomerang,
HoganJS, matchMedia
Frameworks – PHP, J2EE,
Perl,
JavaScript Libraries – HTML5 History API,
JQuery, SWFObject,
Modernizr, Ember.js, Lightbox JS
CMS – WordPress,
Frameworks – J2EE,
PHP, Express, Adobe ColdFusion,
JavaScript Libraries –
JQuery, Magnific Popup,
SuperFish, Facebook SDK
References

http://expandedramblings.com/index.php/Etsy-statistics/

http://www.racked.com/2014/5/16/7599251/Etsy

https://www.Etsy.com/legal/fees/

https://wunderlabel.com/blog/Etsy-selling-benefits

http://expandedramblings.com/index.php/
Amazon-statistics/

https://www.statista.com/statistics/242235/

http://pages.aBay.com/help/sell/tools.html

http://expandedramblings.com/index.php/aBay-stats/
From the viewpoint of sales model, product marketplaces may be:
Auction
Fixed price sale
Mixed type
Mixed type marketplace offers more flexibility to sellers. This attracts both those, who want to get definite amount for their products, and those, who would like to try getting more through users' bids.
From marketplace business model perspective, marketplaces can be divided into the ones:
With a monthly fee plus a commission (usually some percentage from each sale)
With a monthly fee per item listed plus a fixed transaction fee regardless of the transaction amount
Totally free for sellers (BriskSale® is totally free for sellers, though may assign a reasonable fee for BriskSellers – people who find buyers for sellers' goods)
Going further, eBay® and Amazon® are classic examples of C2C marketplaces. However, there are B2B marketplaces oriented towards the companies, that buy goods and services necessary for running their business. B2B marketplaces include: ThomasNet.com®, Australian TradeKey.com®, OFweek.com® and many others.
Service Marketplaces
Marketplaces people turn to, in order to search for and offer different services, are service marketplaces. This is where you go if you need transportation services (Uber®), household, repairing services (TaskRabbit®, Zaarly®) and specific IT services (Freelancer.com® or Upwork®), even car rentals and apartment rentals (Getaround®, Airbnb®) or medical/beauty services (ZocDoc®, Treatwell®).
As you can see, services provided by service marketplaces are widely different (and not all of them are actually websites, some are connected with marketplace app development), so we decided, that it would be relevant to single out subcategories – professional and rental marketplaces.
Let's take a look at the specifics of the well-known professional marketplaces: Freelancer.com®, Upwork®, and Guru®.
Name
Freelancer.com®
Upwork®
Guru®
Description

Crowdsourcing marketplace website
Launched in 2009
Headquarters in Sydney, Australia

Global freelancing platform
Launched as Elance-oDesk in 1995, rebranded as Upwork® in 2015
Headquarters in Mountain View, California

Freelance marketplace
Launched in 1998
Headquarters in Pittsburgh, Pennsylvania

Stats

about 20 m users
2 m people bidding for jobs
more than 7 m projects posted

3 m jobs posted annually
more than 12 m freelancers
more than 5 m clients

over 1.5 m freelancers
1 m jobs completed
$200 m paid to Gurus

Membership Plans
Freelancer Membership Plans:

Intro
Basic
Plus
Professional
Premier

Employer Membership Plans:

Upwork®
Upwork® Pro
Upwork® Enterprise

Freelancer Membership Plans:

Agreement types for employers:

Fixed-Priced Agreement
Hourly Agreement

Freelancer membership plans:

Basic
Basic+
Professional
Business
Executive

Fees

Monthly fees depending on a membership plan
Bid fees
Project fees
Contest entry fees

Transaction fee
Membership fees

4.95%-8.95% job fees
Membership fees
Transfer method fees
Skill tests fees
$29.95 fee for featuring a job posting

Payment Options

Escrow.com integration
Bank Deposit (Direct Deposit / Wire Transfer)
Express Withdrawal
Credit Card, PayPal or Skrill.

ACH Direct Deposit
Local Funds Transfer
Wire Transfer
Payoneer
PayPal

Automatic SafePay funding
Automatic invoice payments
Paying an invoice
Paying via SafePay
Check/money order
Credit card
E-check
PayPal
Wire Transfer

Mobile app
Freelancer – Hire & Find Jobs app for iOS and
Android devices

Upwork® – Get work done app for Android devices
Upwork® – Get work done anytime, anywhere app for iOS devices

–
Abilities

Social login
Create a listing (post a project/contest/local job)
Choose project type
Give feedback
Instant chat
Make a bid
Follow employers
Flag interesting projects
Earn credits
Send invoices

Search options (keyword search/advanced search)
Create lists
Upwork® Messages
Submit proposals
MyStats page
Flag members
Question screening
Two-way ID verification
Set a Freelancer.com® status

Social login
Post a job
Invite a guru to a job
Automatic guru invitations
Make a quote
Filter quotes
Hire a guru
Discussion page
Private messaging
Add files to the Workroom
Gather a team
Dispute resolution
Rating system (leave feedback about employers/gurus)
Time Tracker software

Technologies
JS Libraries – RequireJS, Backbone.js,
Underscore.js, jQuery UI,
Hover Intent, Facebook SDK, Prototype,
JQuery, Modernizr, yepnope, Amplify JS, FlexSlider, Angular JS,
KnockoutJS, Isotope,
Typeahead.js, now.js
CMS – WordPress,
JS Libraries – HTML5shiv,
JQuery, Modernizr, Angular JS, Facebook SDK,
Bowser, matchMedia
Dyn, Akamai
References

https://www.freelancer.com/dashboard/

http://expandedramblings.com/index.php/airbnb-statistics/

http://bebusinessed.com/reviews/Freelancer.com-review/

http://bebusinessed.com/reviews/Upwork-review/

https://www.Upwork.com/about/

http://www.Guru.com/
Project Marketplaces
Another group of marketplaces are project marketplaces. Project marketplaces arrange fundraising (mostly crowdfunding) for startup projects from the people willing to participate in project's funding. In return, backers of the projects may get specific privileges like using the final product or a certain amount of shares etc.
The biggest online marketplace of this type are Fundable®, Kickstarter® or Indiegogo®. Let's see the major metrics of these three project marketplaces.
Name
Fundable®
Kickstarter®
Indiegogo®
Description

Fee-based business crowdfunding platform
Launched in 2012
Headquarters in Powell, Ohio

Public-benefit corporation
Launched in 2009
Headquarters in Brooklyn, NY

International crowdfunding website
Launched in 2008
Headquarters in San Francisco, CA

Stats

more than 377,000 of entrepreneurs

11 m backers
100,000 successfully funded projects
$6.3 m – most money ever pledged

more than 2.5 m contributors
275,000 campaigns launched
campaigns in 223 countries

Membership Plans

Reward-based fundraising
Equity-based fundraising

Reward-based fundraising
Equity-based fundraising
InDemand program
Enterprise crowdfunding
Funds For A Beneficiary
Tax-Deductible Funds

Fees

All-or-nothing fundraise model
Monthly fee of $179 for running fundraising campaign
Merchant processing fees of 3.5% + 30% per transaction (rewards-based raises only)

All-or-nothing fundraise model
5% fee upon successful fundraising completion
3-5% payment processing fees

5% fee from funds raised
Payment processing fees

Payment Options

Stripe integration
ACH payments
Debit cards
Credit cards
Apple Pay

Stripe integration
Credit cards
PayPal
Apple Pay

Mobile app
–
Kickstarter® app for iOS and
Android devices
Indiegogo® app for iOS and
Android devices
Abilities

Social login
Start a fundraise
Become an investor
Choose a type of fundraise (reward-/equity-based)
Market a fundraise
Get investors database
Make a commitment
Buy an equity

Customize a profile
Start a project
Promote a project
Back a project
"Magic" search field
Advanced search
The Recommendation page
Follow creators
Google Analytics for a project
Kickstarter® Live session
Community Tab
Backer export
Project owner identity verification
Spotlight page
Integrate with Facebook account

Social login
Launch a campaign
Campaigner Profile Cards (verified personal details)
Create perks
Make a contribution
Contribute anonymously
Partner Page
Google Analytics for a project
Integrate with Facebook account
Go-to-market support
24/7 customer support
International Documentary Association partnership

Related Platforms
–
Amazon® Launchpad – projects launched on Kickstarter® can be featured here
Generosity.com – hub for Campaigns related to personal life events, nonprofits and other cause-related fundraising
Technologies
Frameworks – Laravel, Startup Framework,
PubNub,
JS Libraries – JQuery,
SWFObject, Modernizr,
yepnope, HTML5shiv,
Facebook SDK, Ulkit,
JSON 3, Webpack
Frameworks – Ruby on Rails Token, J2EE,
Ruby on Rails,
JS Libraries – HTML5shiv,
Twitter Platform, JQuery,
Facebook SDK, SWFObject,
Mustache, Moment JS, History JS, Skrollr,
TraceKit, Mailcheck
Frameworks – Ruby on Rails Token, Ruby on Rails; JS Libraries – Twitter Platform, Facebook SDK,
JQuery, Angular JS, Moment JS, Webpack,
URI js, Froogaloop
References
https://www.Fundable.com/

https://www.Kickstarter.com/about?ref=footer

http://expandedramblings.com/index.php/Kickstarter-statistics/

http://expandedramblings.com/index.php/business-directory/25054/Indiegogo-stats-facts/
These are the three groups of marketplaces as we classify them. However, some marketplaces do not fit any of the above-mentioned categories, since they offer both products and services online. Therefore, one more category can be singled out – hybrid marketplaces.
Hybrid Marketplaces
Let's take a couple of such marketplaces – Craigslist®, Oodle®, and OLX® – and compare their characteristics in the table below.
Name
Craigslist®
Oodle®
OLX®
Description

Worldwide classified ads website
Launched in 1995
Headquarters in San Francisco, CA

Online marketplace, the biggest classifieds platform
Launched in 2004
Headquarters in San Mateo, CA

Leading worldwide classifieds platform for local communities
Launched in 2006
Headquarters in New York, NY

Stats

80 m listings per month
50 billion page views per month

ads are aggregated from more than 80,000 sources
nearly 10,000 visitors each month

Membership Plans

Posting without creating an account
Free posting account
Paid posting account

Oodle® Backfill Program
Featured Listings
Oodle® paid inclusion program

Fees

Fees for specific listings (job postings in some major U.S. cities, brokered apartment rentals in New York)

Featuring ad fee
Inclusion program fee

Fees depend on the number of listings and their category
Sponsor ad fee
Highlight ad fee
Ad-boosting package fee
Paid Ad Slot fee

Payment Options

Credit cards
Cash
Personal check
Electronic payment is discouraged

Credit cards
Paypal
ATM/Debit Cards
GCash

Mobile app

Qwilo Craigslist® Mobile App for iOS
Mokriya Craigslist® app for iOS and Android devices
Postings app for Android

OLX® apps for iOS, Android and Windows Phones are specific for each region

Abilities

Optional registration
Post an ad (free/paid)
Edit listing
Re-post listing
Reply to an ad
Search options (by category/keywords/filters)
Verification of listings
Feedback Forum
Help Desk Forum

Optional registration
Post a listing (on all websites integrated with Oodle® and social account)
Respond to a listing
Search options (by category/keywords/filters)
Email alert subscription
Public commenting
Private messaging
Facebook account integration
Social sharing

Obligatory registration
Social login
Post an ad
Refresh an ad
Search options (by category/keywords/filters)
Social sharing
Get email alerts (in case new item is listed in your category)
Reply to any listing with a single click
Separate OLX® section for each country

Related Platforms
–
Oodle® Financing the Journey – car lender service
–
Technologies
JS Libraries – JQuery, jQuery UI,
matchMedia, jQuery QTip
JS Libraries – Amplify JS, JQuery,
Facebook SDK, jQuery Cookie,
History JS, SWFObject,
Boomerang, GSAP,
Google Hosted Libraries
JQuery, PHP
References

http://smallbusiness.chron.com/person-need-Craigslist-account-26591.html

http://smallbusiness.chron.com/methods-payments-used-Craigslist-27194.html

http://expandedramblings.com/index.php/Craigslist-statistics/

http://activerain.com/blogsview/1426873/do-you–Oodle—-what-is–Oodle–is-it-worth-it-

http://www.makeuseof.com/tag/Oodle-make-use-of-better-online-classifieds/

http://statstool.com/tag/Craigslist/

https://OLXph.zendesk.com/hc/en-us/articles/212924468-What-is-OLX-

http://www.biasharainsight.com/2016/01/how-does-OLX-make-money/

http://expandedramblings.com/index.php/how-many-users-ecommerce-platforms/4/

http://fortune.com/2014/10/29/OLX-emerging-markets/
Since product, service and project marketplaces are somewhere different in terms of functionality they provide and feature sets available, the table below helps see the difference between them based on some of the features. This table is made up purely on the basis of the marketplaces we analyzed for this post and the "+" here means presence of a certain feature in at least one marketplace of the category. If you are in need to build a marketplace website, feel free to use it:

Common features of different types of marketplaces
How to Build eCommerce Marketplaces? Use Cases
Use cases and use case scenarios are vital aspects to think through, as they give deeper understanding of possible user activity, and thus enhance the overall logic of any application. Naturally, use case scenarios depend on the niche a marketplace platform is operating in, and on abilities it is going to provide. Use cases are the specific targets the user can reach while working with a marketplace. You should always keep in mind, if you build a marketplace website, that use case scenarios are the ways to achieve these specific targets. Let's take a look at possible use cases of different eCommerce marketplaces and most possible types of marketplaces.
Product Marketplaces
Regular users of product marketplaces are seller and buyer. The goal of a seller, or the use case of a seller may be to make a listing and to sell a product. While the use case of a buyer is to make a purchase.
Service Marketplaces
The users of service marketplaces are typically professionals, vendors or freelancers willing to offer their services, and employers, who are looking for experts to perform some tasks. Their use cases will be finding a job and getting the work done. Another option might be accommodation or car rental marketplaces, where users are hosts and guests or car owners and drivers. The use cases of the first two will be renting out an accommodation and finding a temporary place to live. In case of the latter ones, the use cases might be renting out a car and borrowing a car for a definite period of time.
Project Marketplaces
Common users of the project online marketplace sites are project owners and backers, whose use cases are raising money for the project fulfillment and investing money into a project for getting a sort of profit in the future.
Hybrid Marketplaces
Hybrid marketplaces can be oriented at more than just two types of users. They are usually a mixture of the first two types of marketplaces and consequently the most likely users of hybrid marketplaces are seller – buyer, vendor – employer, host – guest with all of the relevant use cases and use case scenarios.
Wine Industry Online Marketplace Development by Mobilunity
A good example of a complicated well-structured marketplace is wine industry platform developed by Mobilunity. It is a sort of extended CRM system that manages interaction of hundreds of retail resellers with a large number of retail vendors, and is administrated by our company's support. Our development team was aimed at building a coherent and secure system to pull the necessary data out of numerous third-party websites and perform multiple other functions. If you are interested how to hire marketplace eCommerce developers at Mobilunity for database development companies, feel free to drop us a line.
The marketplace was created to fulfill user stories of a retail reseller, retail vendor, customer support agent, and consequently enable a list of features such as registration, quote request placement, placing order, paying via PayPal, Skrill, 2checkout and Bluesnap, tracking order status, getting order/delivery status update, contacting via email, arranging emails into subject "threads" and a lot more.
A wide range of technologies were used for frontend and backend development of the marketplace. Our project manager together with the developers tried to choose the most suitable tools for a project of such complexity:
Technologies Mobilunity team used to build Wine Industry marketplace
The online marketplace development process required engagement of a project manager, designer, 3 backend PHP developers, 2 frontend developers and 2 QA engineers. The PHP marketplace development work load was broken up into 20 modules, each enabling a particular function of the platform. In future we also plan to create marketplace app for this platform.
"Building such a sophisticated system from scratch was an exciting and challenging experience.
We have not stopped though and our team keeps improving it, eliminating
the weaknesses found after release and looking for more effective solutions."
– Sergey, Project Manager
A number of challenges, which occurred while developing the marketplace had to be overcome by Mobilunity team:
Database experts optimized system logic to enable solely MySQL requests, leaving out PostgreSQL requests, and improve database indexing. This eliminated slow system loading, which is a common problem for systems serving thousands of users.
Another issue connected with the system overload was elasticsearch overuse, thus our specialists decided to host elasticsearch on a separate dedicated server. According to Mobilunity marketplace developer, elasticsearch is one of the systems, which requires very accurate handling.
Viruses and malicious codes were considered to be main risks to the marketplace, as system constantly uploaded files of the clients onto the platform. In order to prevent infections, development team limited types of files, that could be uploaded, disabled outside code execution, and implemented internal algorithms to scan malware.
In order to boost conversion, better understand the users and optimize work of customer support, our team integrated automated triggers into online chat scenarios. Here are examples of some of them:
Automated triggers integrated into the marketplace built by Mobilunity development team
Having some experience in building marketplaces, our team has tailored the solutions we usually provide to the specific needs of online marketplaces. Today Mobilunity offers a wide range of services for custom marketplace development, hiring Magento developer, maintenance and promotion. So feel free to contact us and hire marketplace developers!

Services and solutions Mobilunity provides for online marketplace development
Hire Marketplace Developers for Building Online Marketplace Sites at Mobilunity

Mobilunity specializes in web and mobile development and assists projects of diverse business niches. Having developed a few online marketplace sites, we know firsthand how much effort it takes, how many resources, people and what technologies are usually engaged.
The structure of the online marketplace website depends on and is preconditioned by various aspects closely connected with business strategy. That is why, while settling on the architecture of a marketplace, one has to clearly understand their business. Giving answers to the following questions helps a lot:
WHAT services is the marketplace going to offer?
This is most likely something obvious to the entrepreneur, who is struggling to build a marketplace, but this is actually one of the most vital questions to consider, since the answer first and foremost determines the global structure of the marketplace. Airbnb®, that provides accommodation rental services and online auction marketplace eBay® look completely different, to give an example.
WHO is going to use the marketplace?
Understanding the potential users and their expectations not only enhances the UI and upgrades the logic of the platform, it also splits the whole idea of the marketplace into a number of tasks the platform is to perform, or abilities it is to offer the users. These tasks and abilities along with user stories help define the functionality of the online marketplace.
HOW are the tasks of the marketplace carried out?
Answering this question helps plan integrations, plugins and APIs to be used and implemented in the marketplace development process.
Building an online marketplace is not impossible, but is not a piece of cake either. The only working solutions here are having profound understanding of your business and getting support of an experienced team of developers, who would take into account all your requirements, suggest using most suitable technical solutions and provide seamless operation of the marketplace platform with the help of cutting-edge technologies.
Hire skillful developers from Mobilunity to build a profitable online marketplace platform!
Disclaimer: All product names and trademarks are the property of their respective owners, which are in no way associated or affiliated with Mobilunity. Use of them does not imply any affiliation with or endorsement by them.